Gov't
Council Candidate Bio: Louis DeJohn
By
|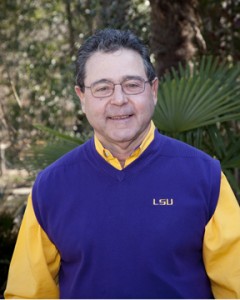 I am Louis DeJohn and once again I ask you for your support.  I was born in Baton Rouge and graduated from Catholic High in 1966.  In November of that year, I married my 8th grade sweetheart and I am proud to say the commitment we made 43 plus years ago has grown stronger ever since. Along the way we have been blessed with four children and eight beautiful grandchildren.
In the summer of 1966, I entered LSU.  After three years of trying to support a family and fit in a demanding education schedule, I decided that I would be better served by leaving college and working full-time in my parents' business, Louis Mechanical Contractors.  I, like many, had to work my way through the ranks.  I began as a helper, then apprentice, then journeymen, then foreman, superintendent, and eventually was elevated to President of the company.  Each and every step prepared me for my next, and all have contributed to my ability to listen and lead.
Knowing the meaning of hard work gives me a better appreciation of my time at play.  I am an avid fisherman and hunter.  When asked which I prefer, I answer, "It depends on that time of the year it is." Additionally I love Christmas, Easter, family gatherings, visiting with friends, cooking, walking in the woods, a ride in a golf cart, swimming, skiing, dancing and traveling when I can find time.
But my true passion lies in civic contributions.  This all began in 1978, when I first started coaching 2nd, 3rd, and 4th grade   youth football.  That August kneeling down listening to those children praying for their parents, brothers and sisters, coaches and friends, made an impression on me that would last a lifetime.  I was there to teach them and little did they know how much they were teaching me.
Since that time serving has become a priority.  I coached youth football and girls' softball, and I served on numerous boards including CAYL, Redemptorist Intra-parochial School Board, St. Alphonsus Building and Maintance Committee, St. Alphonsus Parish Council, St. Joseph's Academy Building Committee, Louisiana State Plumbing Board, East Baton Rouge Parish Plumbing Board, and Local 198 Board of Trustees.
My proudest accomplishments in the serving arena lie in the two charitable campaigns I fostered and chaired. In September 2001, there was no city of Central and the events of 9/11 deeply moved me to serve my fellow man.  I contacted competitors, plumbing suppliers, and technicians and asked them to join together and we formed "The Greater Baton Rouge Plumbing Industry's United Disaster Relief Effort."  Together we raised $81,000 for Governor Mike Foster's "Bucks for Fire Trucks" Campaign.  Then again, in August of 2005, I watched helplessly as Hurricane Katrina wreaked havoc on our state.  Again I felt a need to help, and with the backing of our new Mayor Mac Watts, Cooking for Our Neighbors/Cooking in Central/Cooking for our Kids was born. To date, through the dedication of the people of Central, we have been able to raise over $1 million to purchase much needed school buses, technology equipment, and school books for our neighbors and our children.
What has driven my life for the past 6 years has been my love for our "City of Central."  I was invited in August 2004 by State Representative Donald Ray Kennard to attend a meeting in his office about the ongoing effort to incorporate "Central."  I was so moved by what I heard that I became actively involved that day.  Since then I have devoted my time, resources and energy to help accomplish the goals of those who had the vision.  
On April 23, 2005, the City of Central was incorporated, and in June I was appointed by then Governor Kathleen Blanco to serve on the interim City Council.  On April 1, 2006, I was honored to be elected to our first City Council.  From July 11, 2005 through July 30, 2007, I served as your Councilman without pay, and if my vote would have carried the Council would still be serving without pay today.
All of the above shapes the basis of my ability to serve. I have listened and I have spoken.  I have supported and I have lead.  I have learned and I have taught.  But most importantly, I have worked with and for people from all walks of life and share their concerns. Though our accomplishments are numerous there is still unfinished business, and I am confident in my ability to complete the job I accepted 4 ½ years ago.  With your help, your support, and your vote, together we will insure that the vision of our neighbors and friends will continue to be one that we will all be proud to share.  For more information or to become involved in my bid for re-election, please visit my website at www.louisdejohn.org or visit my Facebook page at Re-elect Louis DeJohn, Councilman, City of Central.
I will continue the course.  I ask that you "Join the Journey."