Gov't
Council Candidate Bio: Wayne Messina
By
|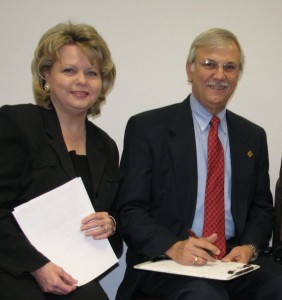 My name is Wayne N. Messina and I am a candidate for the Central City Council. 
I truly believe I have the ability to make wise, honest decisions for the good of all the people of Central.   
There are several areas of concern for me that I know are also concerns  for the Central  community.   They are as follows.
1. Roads – More traffic, more wear and tear on our roads.  More pot holes, more cracks.  As your City Councilman I must see that the repairs, paving, etc must be done  in a timely manner.
2. Drainage –  Beaver Bayou and its tributaries are a concern for the citizens that live in this  area.  As of now, I am working towards having the bayou and canals cleaned so that this area of our community will drain properly.  As new subdivisions are planned, the developers will have to show that their project will drain properly and will not cause an undue burden to the people in the surrounding areas.
3. Police –  This is the most important as far as I am concerned.  Our beautiful city is growing fast.  It stands to reason that as the population grows, through no fault of our own, crime grows.  This is evident by the increased break-ins, robberies etc. that have recently taken place.  The Central Sub Station has six deputies that are responsible for the entire Glen Oaks, Park Forest, Monticello areas  and 27,000 residents of Central.  They work a 12 hour shift.  If one or two are sick, they are not replaced.  Realistically, it is difficult for that limited amount of man power to cover such a vast area.  We cannot close our eyes to this fact.  What will we do if in the next six months, the Sheriff says Central must pay for  their own services.  I have a thought process that I shall present at a later date.
4. Business –  Let's face it, new subdivisions and people moving in will only contribute so much to the revenue of Central.  In order for us to grow as a community, as a city, we must seek  and encourage new businesses to locate here in Central.  Just as I believe the City of Baton Rouge has been blessed for all of these years by the Mississippi River, I believe that the City of Central can and will be blessed by the Metro Airport.  Harding Blvd and Hooper Road is four laned almost to Lovett Road.  When I ran for the Metro Council, I spoke to the Director of the Metro Airport about fares and competition and more flights.  This is now becoming a reality.  When businesses such as Nike, etc see that the airport is a hub and Central is a spoke of that hub, we will then be able to convince them to come to Central  and build warehouses, production plants etc.  Which in turn will bring in revenue other than taxing the people.   I will work diligently to attempt to get businesses and corporations to become park of the Central Community.
5. Open and Honest Government  –  I shall include the community and keep the community informed  of what is going on with our government on a daily basis.  I will be available to discuss the issues and listen to the concerns of the people.
6. Helping People – This is what I believe I was placed on this earth to do.  Your problems become my problems and  I pledge to you I will do everything in my power to help you correct that problem. 
7. The Elderly –  I promise that I will be your voice.  The decisions that are made should take into account whether or not you will be hurt.  My Mom was 84 and my Dad was 91 when they passed away.  I saw the undue financial burdens that were placed on them.  I am sensitive to your needs.
8. Art Council –  We have many artists in our community.  We need an art council so all of us in Central can enjoy and take part in the talents or these wonderful people.
My wife, Janet, and I have lived in Central for 32 years.  We have two children,  Fran Manzullo, who is married to Michael Manzullo and Todd Messina who is married to Becky Heilman Messina.  We have four beautiful grandchildren, Dominick and Isabella Manzullo and Megan and Evan Messina. We are very proud to call Central our home. 
I graduated from Nicholls State University with a BA degree in education.  I graduated from LSU with a masters degree in Supervision and Administration and then earned my plus 30 from Southern University. 
I am proud of the fact that I have worked 41 years for the same company – The East Baton Rouge Parish  School Board.  18 years as a teacher/coach, 16 years assistant principal/principal Baker High  and seven years as Director of Security for the system.  I am responsible for a two-million dollar budget per year.  
I believe I am more than qualified to be your city councilman.  I humbly ask for your vote on March 27th so I can prove to you that I will work hard for the Central Community.   
I am Central Proud.   
Sincerely, 
Wayne N. Messina