Gov't
Police Chief Candidate Bio- Doug Browning
By
|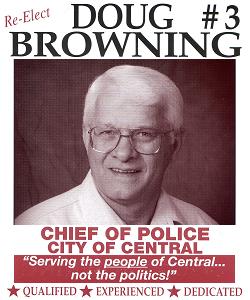 PERSONAL
I am a life long resident of the Central area. I am married to the former Betty "Cooky" Chemin and together, we have two sons, one daughter, and three grandchildren.
EDUCATION, TRAINING, AND QUALIFICATIONS
Graduate of Central High School, Class of 1960
LSU Basic and Supervisory Law Enforcement Classes
EBRSO Training: Firearms, Self-defense, Defensive Driving, Local and State Laws, Policy and Procedures Management
State P.O.S.T. Certified Law Enforcement Officer
Security Alarm Response: Banks, Savings and Loans, Homes, etc.
LSU Firefighting and Haz-Mat Incident Commander Classes and Training
Charter Member of BRFD Haz-Mat- Law Enforcement Team
Charter Member of the 911 Emergency Response
Mutual Aid (OEP- Home Land Security)
Nuclear Regulatory Commission- River Bend Plant Evacuation Training and Response Drills
Taught several years at LSU Law Enforcement Basic Academy on Haz-Mat response for first responder
Extensive knowledge in Policies & Procedures preparation, many of which were adopted by EBRSO
Designed building plan for EBRSO Communications Center at the Central Sub Station
Equipped a new 800 Mhz portable radio system for EBRSO
Drafted Policies & Procedures and trained all personnel regarding use of the new radio system
EXPERIENCE
Retired Captain with East Baton Rouge Parish Sheriff's Office (EBRSO) with 34 years of service working in the Communication and Detective Divisions
State P.O.S.T. Certified Law Enforcement Officer
Instructor at LSU Law Enforcement Basic Academy on Haz-Mat response for First Responders
ACCOMPLISHMENTS AS YOUR CHIEF OF POLICE
Since being elected to the position of Chief of Police of the City of Central on an independent ticket, I have maintained that independence, working continuously to build a foundation for the time when our community will need a full-time police department. To that end, I have acquired special equipment and implemented several actions to help us gradually increase the size and capabilities of our own police department. These include:
Implementing a five-man, non-paid reserve division that patrols our city in marked patrol units
Hiring off-duty EBRSO Deputies that work up to 32 hours/week patrolling our city in marked units
Acquisition of five portable high-band police radios (loaned by EBRSO) that allow interface with the Sheriff's Office
Obtained and installed a National Crime Information Center computer from the state
Accepted appointment by Gov. Bobby Jindal to serve on the Drug Enforcement and Violent Crime Board (one of only three Chiefs of Police in the state to be appointed)
Completed state-required training for a Chief of Police to receive state supplemental pay for law enforcement officers; however, I have not applied for the increase of $6,000 in my annual salary, and I will not do so until we are a fully operational police department.
Re-Elect
DOUG BROWNING
CHIEF OF POLICE
CITY OF CENTRAL
"Serving the people of Central… not the politics!"