Gov't
June Is Homeownership Month in Central
By
|
Submitted by the U.S. Department of Agriculture
(CENTRAL, LOUISIANA), June 9th, 2010 – Mayor Shelton "Mac" Watts issued a proclamation today recognizing June as "Homeownership Month" in Central. In his proclamation, Mayor Watts urged all residents to consider homeownership because it promotes strong neighborhoods and improves the quality of community life.
"June is National Homeownership Month, and throughout the month, there will be many activities across the nation promoting homeownership," said Mayor Watts. "I want to applaud Central's men and women who have achieved homeownership and encourage others to consider the benefits of homeownership."
Mayor Watts recently visited with Gaye Glass and Melissa Hawes of USDA Rural Development to discuss Rural Development's single family housing programs.
"One of the best federal programs for homeownership is through USDA Rural Development," said Mayor Watts. "Qualified applicants can receive 100 percent financing—with no down payment—to purchase homes; and homeowners may qualify for loans or grants to repair their homes."
"Rural Development is committed to preserving homeownership in America by providing financial opportunities for homebuyers and homeowners," said Glass. "I commend Mayor Watts for recognizing the importance of homeownership and issuing this proclamation."
The City of Central partners with federal, state, and local lenders to assist the citizens of Central in becoming homeowners and to expand homeownership in Central. To find out more about federal home financing programs through USDA Rural Development, call 985-748-8751 ext 4.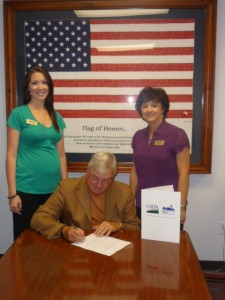 In the picture: Melissa Hawes of USDA Rural Development, Mayor Watts, and Gaye Glass of USDA Rural Development.