Business
Lane Regional Medical Center Welcomes Dr. Best
By
|
Submitted by Julie Madere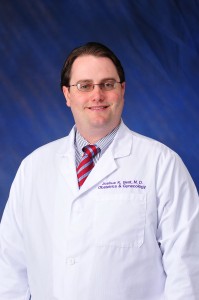 Lane Regional Medical Center is pleased to announce that Joshua Best, MD, Ob/Gyn, has recently joined the hospital medical staff.
A native of Baton Rouge, Dr. Best earned his medical degree and completed his residency in obstetrics and gynecology at Louisiana State University Health Sciences Center in Shreveport. He is residency trained and board eligible in obstetrics and gynecology.
Dr. Best specializes in women's overall health, from childbirth through menopause. "It's a positive experience helping women take preventative measures and ensuring they maintain health during the various stages of life," he said. "And should concerns arise, I am fully trained and experienced in the latest techniques and procedures."
With a focus on family, Dr. Best, his wife Jessica, and their 4-month-old daughter, Ila, are happy to be back home. "I am looking forward to working with Dr. Elbourne and getting involved in the community. And because our office is right next door to the hospital, not having to drive into Baton Rouge for surgery or childbirth is very convenient for patients."
When asked why he chose to practice at Lane Regional, Dr. Best said, "I've been in a lot of hospitals. And when compared to other hospitals, I saw that Lane provides the most personal care for their patients. It's just a great hospital."
Dr. Best is presently accepting new patients at his clinic, Bayou Regional Women's Clinic, located at 6550 Main Street, Suite 2000, in Zachary. To schedule an appointment, please call (225) 658-1303.