School
Bethany Christian School Teachers Honored
By
|
Submitted by Karen Goodroe
Louisa Hodges, who teaches fourth and fifth graders and high school biology at Bethany Christian School, was awarded the PBS Teacher Innovation Award. Louisa's entry was selected from nearly 700 online entries. The winners were selected for the innovations they submitted, qualifying them to provide models of best practices for educators across the country.
Her award-winning lesson engaged her students by using technology and real world application while learning science concepts. For example, her class participated in a recycling project that required students to learn how recycling paper will help the environment. They utilized online tools, Flip cams, and Photo Story to create stories digitally so their videos could be posted on the school's website.

"As we are working towards a goal of collecting and recycling 2000 pounds of paper, the students are learning how to save the environment along the way," Hodges said in her application. "Providing the students with an opportunity to become film makers and create their own movies has offered an interactive learning experience."
Louisa received a free trip to the PBS Annual Meeting in Austin, Texas in May where she discussed ways to connect innovative stations and classrooms with the PBS Education Staff. She also received a Smart Board for her classroom. She is pictured in the top photo below.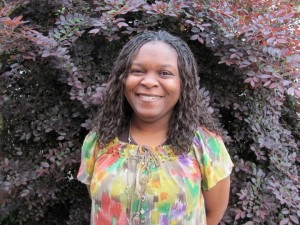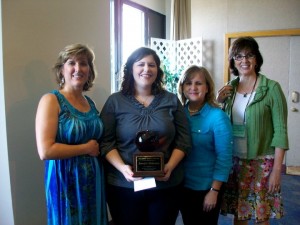 Jennifer Melancon, a high school teacher at Bethany Christian School, was recently honored with the International Christian Accrediting Association's Teacher of the Year award. Ms. Melancon teaches World History and Journalism and is the yearbook advisor. Melancon, along with several other staff members at BCS, traveled to Tulsa, OK, this summer to attend Oral Roberts University Educators Fellowship's annual teacher's conference. On Thursday, July 1, a banquet was held on the sixtieth floor of CityPlex Towers in Tulsa, where Melancon received $500 and a plaque.
**Shown in the bottom picture taken at the banquet are BCS Staff members Penny Perkins, Jennifer Melancon, Kathy Moise and Susan Bickham.