Church
Walking by Faith
By
|
By Mia Freneaux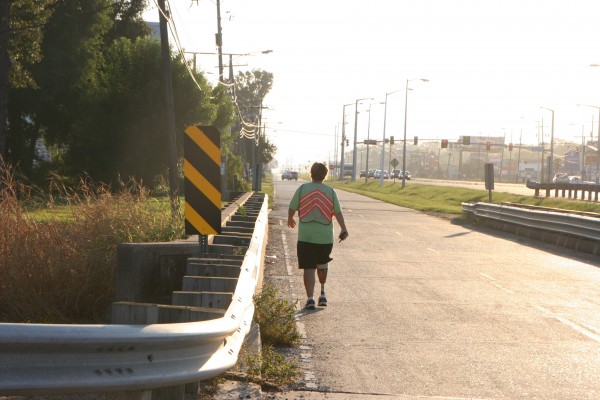 Last Saturday at 7:37 a.m. precisely, 2 women stood by the side of Florida Boulevard and joined in prayer as the world rushed by. They stood by a cross that had just been planted in the ground with the number "9482" on it, and prayed for the families of the victims of 9/11. It was a single moment in a 9 year long journey.
In January of 2002, Carol Cruise took the first step in answer to a call God had placed on her heart 9 years before as she faced the amputation of her leg after a 3 year battle of 15 surgeries to try and save it. At that time, she asked the Lord to use her. She told Him she wanted to be "Better, not Bitter". After her surgery, God gave her a recurring vision – a vision to walk the entire perimeter of the 48 contiguous states, praying for the protection of our country, for people to find Christ and "unite in their hearts through prayer for God's will for our country and for peace in the world." January 2002 saw her standing at a 3 foot cross in South Beach, Miami Florida on her prosthetic leg, ready to begin what would become an over 10,000 mile prayer walk. September of 2010 saw her in Baton Rouge, on mile 9,482 of her trip, placing a wooden cross at every mile she has walked. The crosses have a card attached that states, "If you find this cross in your hands, please don't throw it away! Please pass it on to someone and tell that person 'God Loves You'." They are made by volunteers, and have literally "crossed" the globe, turning up in Bolivia, Afghanistan, parts of Asia and Africa, and even Australia.
Carol, a 56 year old ordained minister and mother, says she never saw herself as someone who would even consider such a thing. Far from being an athlete, she was not only one-legged, but overweight and hypertensive. As Carol puts it, if she had been able to come this far on her own 2 legs, it would have brought her a lot of glory. Doing it on a prosthesis, with her other challenges, can only be attributed to a miracle of God. The first few years, she couldn't walk during the winter because of the severe weather in the northernmost parts of our country. That didn't stop her from having to walk through 2 October blizzards, however, or through 5 inches of snow in an April snowstorm. She has walked through 900 miles of desert, including Texas in July! She has had a mountain lion and a wolf at separate times for company, not to mention the occasional snake. In spite of the challenges, Carol focuses on the many miracles God has performed in her life.
One of these miracles is Wendi Miller, a teacher and mother of 2 who, after driving Carol's support car for 2 weeks one summer, felt the Lord calling her to this service full time. At this point in her walk, Carol was having to take enormous amounts of time to drive to pick up her support car drivers and then return them to their homes when their volunteered time was over. She managed to walk only 100 miles or so during this 3 month period and was feeling discouraged. Wendi became yet another answer to Carol's prayers, and in 2003 took the wheel as her full time help on the road. Wendi supplies Carol with water, ice packs, and a place to dry off her prosthesis (about every 3/10's of a mile in this humid southern climate) because the sweat makes it slip off her leg. She is her companion on the road, along with their dog "Walker T" (for "tripod"). Carol was asked in Ohio if she would ever want a dog along for the ride, and she jokingly answered it would have to be a 3 legged one for her, and a Pomeranian for Wendi. Less than 1 month later, they were joined by Walker T, a rescue dog who is trained as an assist dog for amputees. How he came to join them is yet another of God's miracles, as he was scheduled to be euthanized the very day the shelter got the call for a 3 legged Pomeranian. He has joined them in ministering to those in hospitals and children in schools. The fact that Walker T is with them, the fact that in all this time they have paid for only one hotel stay (and that half price!) in their entire journey, the fact that God has answered every need, the fact that Carol is the first person in the history of the old Mississippi River Bridge to be allowed to cross it on foot, all attest to the faithfulness of God towards those who are called according to His purpose.
Carol and Wendy have many miraculous experiences to share. Carol has been spending time recently writing a book about those experiences. After the walk is over on December 31, she has been invited by Canada, Mexico, and people in various countries in Africa to come there with a cross and help them begin their own prayer walk. Information on the prayer walk, photographs, contact information and how you can support this vision can be found at www.faithwalk.net.
Carol has shown what God can do with a willing heart, no matter how unlikely it may appear in the eyes of the world. She has been His instrument, bringing peace and unity throughout this 9 year journey. Are we doing the same for our small part of the world? Maybe the challenge placed here for us is to pray for Central what Carol has faithfully prayed for our country: "Unite our hearts in prayer for God's will for our city and for peace in our town."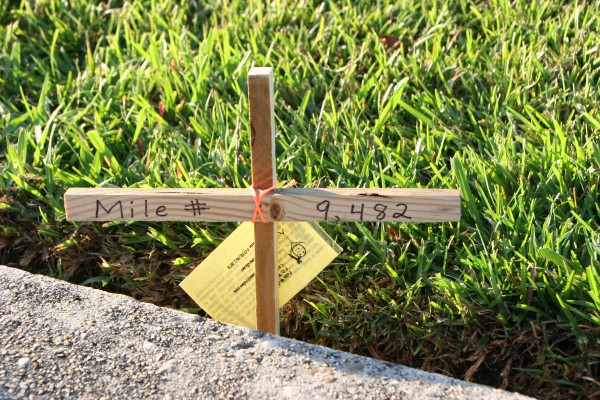 The photo above is of the cross planted at Mile #9,482 in Carol's journey. The cross was placed this past Saturday, September 11th in honor of all of the families who lost loved ones on 9/11/2001.