Sports
Central Comes Up Short against St. Paul
By
|
By Beth Fussell, Stats provided by Mr. Corley, Photos by Expressions Photography
Everyone who was in attendance at last Friday night's game will have their thoughts on the reasons for Central's loss for the second year running against St. Paul. Certainly officials play a part in every game a team plays, and spectators will have their own opinions as to which way each call should have gone. In the end, however you choose to look at it, the Wildcats just could not get enough points on the board to overtake St. Paul, a team ranked near the top in the state.
Even with the loss, CHS did manage to get some pretty great plays out there during the game. The Wildcats started the game quite impressively, with a touchdown (run in by QG Zack Edgens) and a successful 2-point conversion in the first quarter, followed by another touchdown in the second. The second touchdown was a great thing to watch, as James "J.R." Richardson ran with the ball 91 yards after grabbing an interception. This sort of play is something fans have almost begun to expect from this defensive and special teams athlete, even after only two regular season games.
The momentum slowed after the first half for the Cats, as St. Paul seemed to have an answer for every play and each touchdown. St. Paul scored one touchdown in the second quarter, bringing the score to 15-6. St. Paul was the only team to score in the second half, with two more touchdowns to add to their first. The final score was a painfully close 19-15.
Come out again this Friday at 7 p.m. for the Wildcats' Homecoming game against Sarah Reed.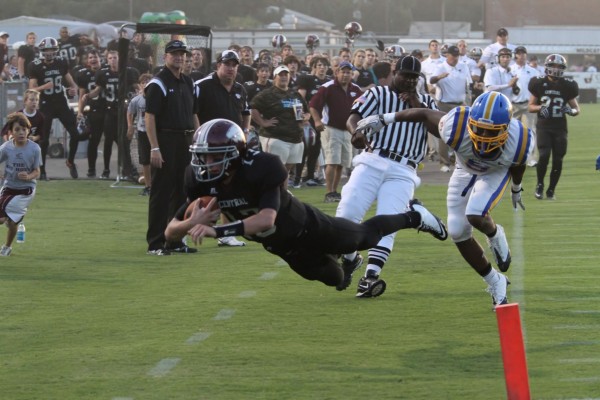 QB Zack Edgens makes a run for it at Friday night's game against St. Paul.