School
Zoar Members Help Out at Central Private
By
|
Submitted by Ellen Frazier
On Sunday afternoon, September 29, 2010, the community outreach ministry of Zoar Baptist Church visited the campus of Central Private School. Armed with pressure washers, sanders, and paint brushes, the hard working members of the church volunteered their time to perform some much needed cleaning and painting at the school.
All the support poles in the lower elementary area were sanded and given a fresh coat of paint. The gym, the sidewalk coverings, and the maintenance building were all pressure washed. Among the members of the work crew were Associate Pastors Glen Miers, Dennis McAnally and Brian Marbury; Church Pastor Dr. Kevin Hand; church members Rhonda & Paul Taylor, David Frey, Mrs. Myrtle Billedeaux, Charles Watson , Danny Baker, Craig Oliphant, Laurie Maultaner; CPS Board members Susan West , Joseph Romero, Clark Wells, James Partin, and Blaise Roy; and CPS students and parents Jesse West, Devin Partin, Rhett Seguin, Leyton Roy, and Joseph Romero, Jr.
Central Private School wishes to extend a heartfelt thank you to the community outreach volunteers of Zoar Baptist Church for their hard work. We truly appreciate our bright red poles and freshly washed surfaces.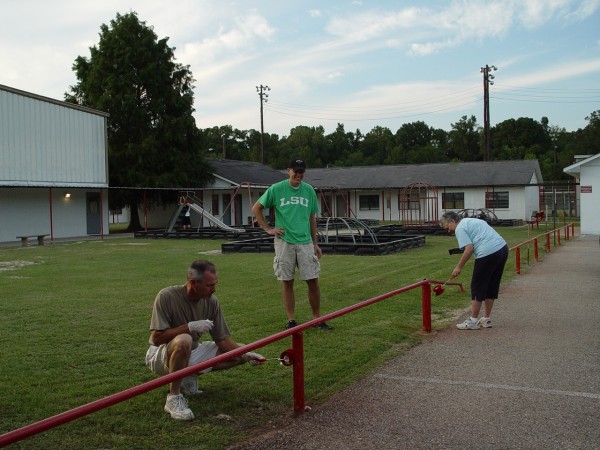 Above, Paul Taylor, Bro. Glen Miers, Associate Pastor of College, Singles & Pastoral Care, and Rhonda Taylor, Central Intermediate School Principal, put a fresh coat of red paint on the CPS lower elementary playground fence.