Sports
Central Blanks Scotlandville 32-0, Ronnie Devall Honored in Pregame
By
|
By Beth Fussell, Stats by Nathan Corley, Photo by Expressions Photography
The Central Wildcats pushed their record to 3-1 last Friday with a decisive 32-0 win over Scotlandville. The Wildcats logged 290 yards of total offense vs. Scotlandville's 109 yards. All of the touchdowns in this game were offensive, though the defense held up their end of the bargain by keeping Scotlandville scoreless throughout. Cortlan Hutchinson led the team in rushing yards with 109 to his name, and the defense worked as a unit to rack up 4 sacks and 36 tackles.
Also at Friday's game was Mr. Ronnie Devall. The retired Assistant Superintendent, principal, teacher, and coach was honored during the pregame show for his years of service to Central schools. His dedication to the children of Central as well as to the new Central Community School System will be remembered and appreciated for a very long time.
Come see the Wildcats play Catholic at Memorial Stadium this Friday at 7.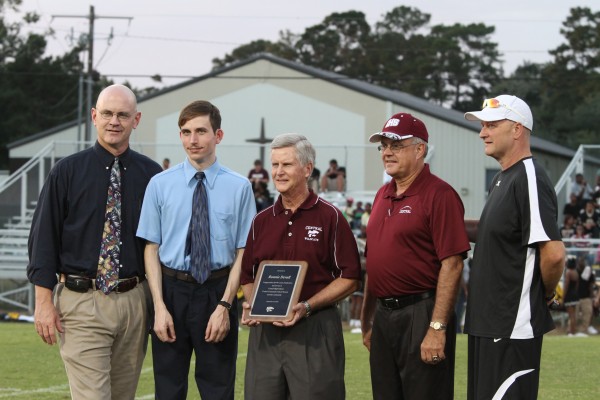 Above: Principal Wales, Chris Schaffer, Mr. Devall, Superintendent Faulk, and Athletic Director Sid Edwards