Sports
Yellowjackets Hold Off Wildcats for the Win, 13-9
By
|
By Beth Fussell; Stats by Nathan Corley; Photos by Expressions Photography
Though the Wildcats fought hard Friday night, they just could not seem to gain a foothold against Denham in the second CHS loss of the season. It was a frustrating game for the team, especially after a possibly game-winning touchdown for the Wildcats got called back on a controversial and rarely-called "assisting the runner" penalty. Central did make some good strong plays, however, like J.R. Richardson's 86-yard kickoff return for a touchdown, or Matthew Thibodeaux's continued trend of consistently strong kickoffs, with 60 yards each on Friday. Trevor Sansone was the lone receiver of the game, catching 2 passes for 26 total yards. He also had 50 yards rushing, followed closely by Cortlan Hutchinson who ran for 48. The defense worked hard that night, and Cooper Moore led the tackles with 6.5 out of 38 total, along with 5 assists. #46 Zach Hetrick was another major defensive player, with 4 tackles and 8 assists.
Come to Zachary this Friday at 7:00 for a game that could have serious impact on the District Championship. The Wildcats face the undefeated Broncos, who paid a visit to Wildcat Stadium last Friday night to size up the competition. Whoever wins this game, if they win the rest, will take the district title.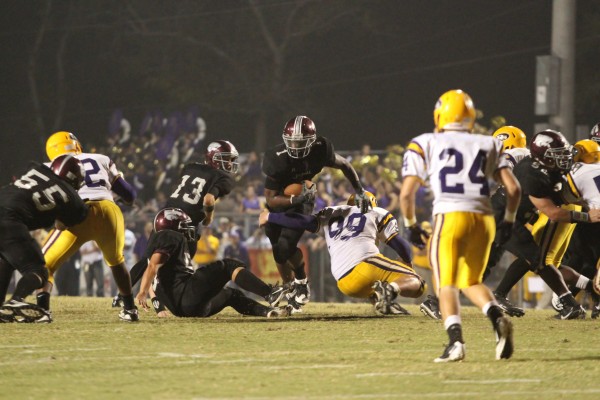 Top: The WAFB Morning News Team interviews kicker Matthew Thibodeaux and his teammates at the Game Day Pep Rally last Friday morning. The students stayed up late, got up early, and some even camped out to be a part of the show.
Bottom: #1 Cortlan Hutchinson dodges through the Denham defense
Photos by Expressions Photography