Community
Central Relay for Life Raises $20,000 for American Cancer Society
By
|
By Dave Freneaux; Photos by Dave and Mia Freneaux and Beth Fussell
From noon until well into the night the people of Central walked the Central High School track in support of the Relay for Life. This is the single largest fundraiser of the American Cancer Society and the people of Central have been showing up each year in support. Teams are formed and fundraisers held throughout the summer, with this final event being twleve hours of fellowship, fun, games, food and music.
The day included performances by dance studios, the band "Mark Kelin and the Last Sensations", a pet parade and judging, a space walk, plenty of food, face painting, pumpkin painting, solo music artists, and constant music supplied by Alex Harbert of Alex Lee Karaoke. At dinner all cancer survivors were served a meal then invited to walk the track in recognition of their battle and in celebration of their lives. After dark the track is lined with luminaries dedicated in honor or memory of loved ones and the entire crowd walks the track, passing by the bleachers where the word "HOPE" is formed with luminaries. The Relay was successful, meaningful and a great way to support such a noble cause as the fight to cure Cancer. The $20,000 raised so far is still $5,000 short of the goal for the year, so consider a donation to the American Cancer Society. To all those in our wonderful community who have donated to this cause through our many fundraisers in the past few months, THANK YOU!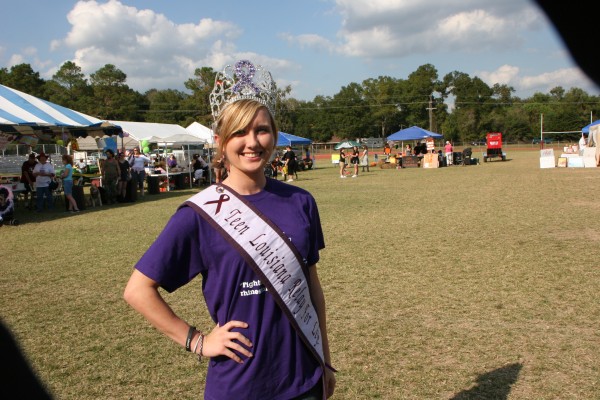 Miss Teen Louisiana Relay for Life Brianna Crane came all the way from Pontchatoula to help celebrate here in Central.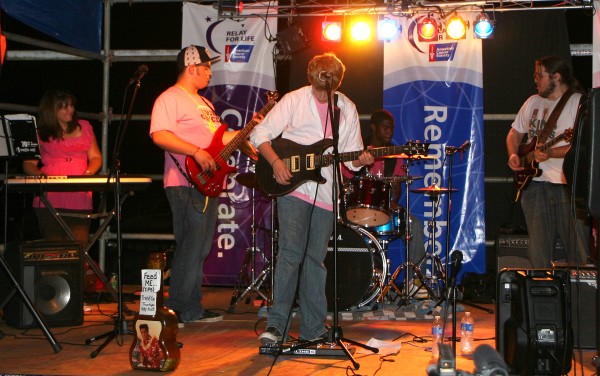 Mark Klein and the Last Sensations provided the live entertainment at Relay. The band received tips for their great performance, and they donated that money to the American Cancer Society along with their time and talents last Saturday night. The band members include Mark Klein (lead vocals/lead guitar), Chris "Stix" Jones (drums/vocals), Jacob Braud (bass/vocals), and Vivian Ryder (keyboard). You can catch them live at Skate Heaven's Halloween Bash this Friday, October 29th from 6:30 p.m. to midnight.