Sports
Rebels Take Season-Ending Loss in First Round of Playoffs
By
|
By Patrick Tate; Photo by Selser Photography
The Central Private football season came to an end this past Friday night in Pineville, LA as the Cenla Lions were able to use special teams and defense to score a 16-6 victory over the Rebels.
After a scoreless first 22 minutes, the Rebels were able to get on the board with 1:59 remaining before half when Dustin Johnson blasted into the endzone from 2 yards away. The Rebels attempt at the 2 point conversion failed and CP took a 6-0 half time lead.
The Rebel defense continued to play well all night long but Cenla's Reagan Lane fielded a bouncing punt on his 46 yard line and sprinted 54 yards for the score. A 3 yard run gave the Lions the 2 pt conversion and the 8-6 lead.
Although the Rebel defense continued to act the part of the immovable object, limiting the Lions Dartavious Green, the leading rusher in the MAIS, with 1700 yards to 1 yard rushing on the night. Unfortunately for the Rebels, the offense could not get unwound. Each time the Rebels looked like they might get going, they committed a turnover. They had 6 on the night including 5 interceptions. Lane was able to return one of his two interceptions 37 yards for the score that put the game away for the Lions. The Rebels ended the season at 5-6.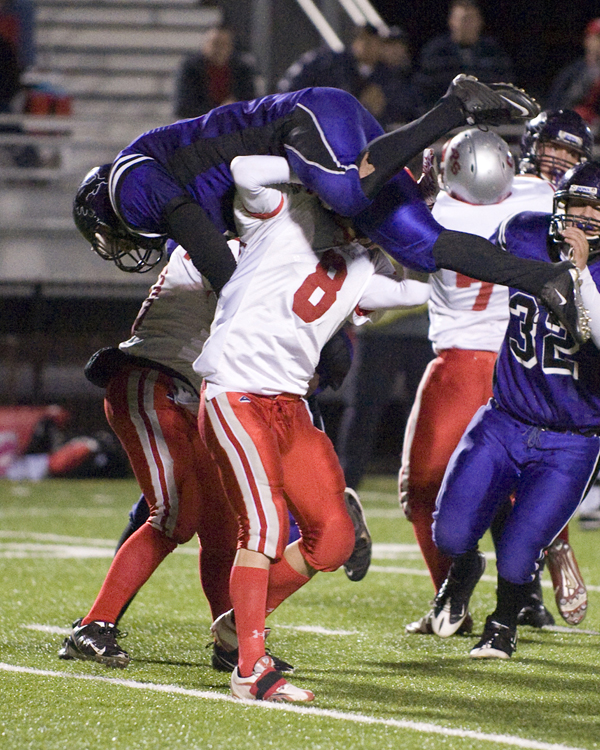 Trevor Shepherd (Selser Photography)