Community
God's Call from the Pacific: A Tribute to One of the "Greatest Generation"
By
|
Submitted by Elva Joe Crawford
Eighty five years ago, In December of 1925, Harold Gordon McNabb was born at home in Denham Springs, Louisiana; the second child of Jesse and Annie McNabb. The day after Harold was born, his dad walked down to the then wood-framed First Baptist Church of Denham Springs, just a couple of houses down from their house, and asked the pastor to come pray for his wife and new born son. Brother David Coyle, the pastor then, obliged and went with Mr. Jesse McNabb to his house to pray. Mrs. Annie McNabb had a special prayer request for the pastor. She wanted Bro. Coyle to pray that God would call her new born baby boy to preach. So Bro. Coyle prayed as she had requested. It would be many years later, well after he had indeed been called into the ministry, accepted that call, and become a preacher before Harold knew anything about his mother's prayer request.
When he was three years old, his parents moved the family to Beaumont, Texas to get work. So Harold grew up and graduated from high school in Texas. In 1941, when the United States was attacked at Pearl Harbor, he was sixteen years old. As soon as he graduated from high school, he joined the Navy. Initially he went into officer's training. However, after finding out how long it would take to complete officer's training, and being anxious to be with soldiers who were already in the thick of battle, Harold got out of officer's training and began training to be a navigator on a Navy ship.
He finished his navigator training at nineteen years of age, and his group was assigned to a ship whose final destination, unbeknownst to the sailors, was the South Pacific. On completion of training in the United States, Harold and his crew were sent to Portland, Oregon to pick up the ship, stock it, and prepare for battle. The ship left Oregon, set down the coast of California, and eventually joined other ships that were crossing the Pacific Ocean together on their journey to Pearl Harbor, Hawaii. After making it to Hawaii, Harold says that one Sunday afternoon, while docked in the harbor, he felt the Lord, for the first time, calling him into the gospel ministry. But he resisted the idea, thinking that he did not want to be a minister. He thought he would be a faithful Christian and church member…with a secular job. He would even agree to be a deacon. But, the feeling that God was wanting him to be a preacher and go into the ministry would not go away.
From Hawaii, Harold's ship would travel through several places in the Pacific, ultimately arriving in Manila Bay for the invasion of Corregidor and the liberation of the Philippines. Harold had been having stronger and stronger feelings in his heart and mind during this journey that God was indeed calling him to preach the Gospel. It was the evening of February 15, 1945. Harold stepped into one of the offices of the ship and got down on his knees to talk to God and settle this preaching issue once and for all. He told God to leave him alone. He told God that he wanted Him to quit nagging him about going into the ministry. And that was that. Harold had determined that he would not take the life of a preacher. He told God, "Don't bug me with this again." But God did not take Harold's advice.
That night, he went to bed as usual except that for the first time, he went to bed without taking his life jacket for his pillow. That night, we would sorely regret his decision to fake his swimming certification by getting another sailor to swim the practical test for him. At 3:00 a.m. on February 16, 1945, his ship was torpedoed by the enemy. His ship and two other ships would be sunk.;
The torpedo blast blew Harold about 20 feet from his bunk. He was still on his hands and knees when he says that he heard an audible voice. Whether the voice was audible to anyone else he does not know. But he knew Whose voice it was. And he well understood what He was saying. It was the Lord telling him that if he did not do what He was asking him to do, He was going to take him out right then and there. And He would find someone else to fill his shoes in the ministry. Harold says he had never heard God audibly speaking prior to that night, and has never heard Him speak like that since. Immediately, he told the Lord that if He would save him, he would go into the ministry.
The ship was 500 yards from the shore of the Bataan Peninsula. Harold promised God that if He would get him to shore, he would preach, and he meant it. He had no life jacket. He could not swim. It was dark. After climbing onto the main deck through an escape hatch with some other crew members, it was discovered that there were no life boats available. Of the four life boats on the ship, two had been launched and the other two were jammed by the explosion. He told the Lord again that he meant what he said about going into the ministry.
The ship was sinking. One of the crew members standing on the deck, Danny Murphy, had had his back injured by the blast. He would not be able to swim to shore. Danny spotted a large wooden box on deck that the ship's cook used to cool pies. He asked Harold if he would get on one end of the box, then he would get on the other side, each holding onto opposite sides of the wooden box, balancing each other to keep the box afloat in the water. Harold agreed. They threw the box in, jumped in the water, grabbed the box, pushed themselves from the side of the ship with their feet, and began kicking their way toward the shore. Looking back several yards from the ship, Harold and Danny could see the ship go perpendicular in the water and then straight down under the water. It was an absolutely horrifying sight.
As the ship went down, the diesel fuel spilling out of the ship caught fire. Harold and Danny were right in the middle of the flames. They were both praying out loud. Before they could kick themselves out of the diesel, Harold received second degree burns from his neck to his waist, everything that was not below the waterline. Miraculously, the two men were not hit by the gunfire aimed at them by US soldiers who thought that they were the enemy, trying to float a mine into position on their wooden raft.
Harold and Danny did reach the shore. Harold says that when he reached the shore, you might as well call him "Reverend". He was fully committed and determined to keep his promise to the Lord to go into the ministry. Thirsty, dehydrated and cold, when the sun came up they were spotted and picked up by a rescue vessel and then transported to a temporary hospital ship. Eventually they were put on the USS Comfort hospital ship.
25 of the 71 crew members on that ship lost their lives in the attack. Harold would spend the next two to three months in a navy hospital in New Guinea, receiving treatment for the burns. His burns became infected and turned into boils on his back. In time, he did heal and was transported to a holding area to await transport back to the United States. While in this holding area, one of the nurses gave him a New Testament that had been provided by the Gideons International. This would be the first Bible he possessed since his decision to go into the ministry. He was very grateful to have it and began reading it through and through. His personal Bible had been in his locker when the ship went down. When he did get into the ministry, Harold made time every year for the Gideons to visit whatever church he was pasturing.
Eventually, he got on a large troop ship carrying a variety of soldiers (including former POW's) and was headed back to the states. Many of the soldiers on this ship heading back home were afraid to sleep down in the hull of the ship, and would only sleep on the deck. Harold says he had a certain peace sleeping anywhere on the ship because he had given his future over to the Lord and knew that God would take him only when his time had come.
One year after the ship disaster, Harold was honorably discharged from the service and re-entered civilian life. At twenty years of age, he was eager to begin his education in the ministry, get his college degree, and begin his seminary training. From his experiences, he carried back injury problems and "shell shock" around for many years. His solution to the shell shocked feelings was to keep quiet and not say anything about his experiences. He says some in the military advised him that talking about his feelings might give some the impression that he had mental problems and that might prevent him from getting a job. So for decades he chose to keep everything to himself. It would be in the 1970's before he was able to talk about his war experience and resolve his anguish over the disaster at sea and the memories of how those he knew perished. His Purple Heart and Philippines Liberation medals would be kept in a box for many years.
Discharged from the military in the Spring of 1946, he took the train home from San Francisco to Beaumont. He soon began college on the GI bill, completing his first two years in Texas at Lamar Junior College.
Even though he had been gone from Denham Springs since he was three years old, he still had relatives there who encouraged him to come back to Louisiana to finish his bachelor's degree. He would need a four year degree to enter seminary. So Harold moved back to Denham Springs, stayed with relatives, and enrolled in Southeastern Louisiana College. At that time, the Livingston Parish School Board provided two buses from Denham Springs to Southeastern, Monday through Saturday. For three dollars a month, any student could ride the bus six days a week. Also riding the Livingston Parish bus were students from Central, one of them Jodie Mae Fridge (Crawford). She would take the bus on Mondays to SLC, stay in the dorm during the week, and return on Fridays to Denham Springs were her cousin would pick her up.l She and Harold became good friends riding the bus, and she would get dates for him on the weekends with the girls she knew from Central. One of those girls was Carmen Miller. Carmen was a 1945 graduate of Central High School. Carmen's grandfather, Mr. Walter Bliss, had been principal at Central School in 1918. After her high school graduation she had studied music at Northwestern University in Natchitoches and eventually had come back home to Baton Rouge and attend Baton Rouge Business College. By August of 1949, she was working at Borden's Ice Cream Company as an executive secretary. One Friday afternoon, at the suggestion of her cousin Anna Mae Edwards (Hardcastle), Jodie Mae asked Carmen Miller to go out with Harold. Since neither Carmen's family nor Jodie Mae's family had a telephone in their home, Jodie Mae drove to Carmen's house and knocked on her window to ask her about going to the movies with Harold that night. Carmen had heard of Harold and that he was studying to be a preacher. She absolutely did not want to marry a preacher and was not interested in going on a date with him either. But Jodie Mae would not take "no" for an answer and told Carmen to be ready for seven o'clock. So, Carmen went on the date. Not many dates later, Carmen and Harold were talking about getting married. And, less than one year later, July 18, 1950, Carmen and Harold would be married at Zoar Baptist Church. Their wedding would be the first worship service in the church's brand new sanctuary. Carmen's dad, Claude Miller, was the church treasurer and head of the building committee. Her mother, Marian Bliss Miller, whom most people knew only by the name of "Mammy", was the church secretary. The new red brick building, which would replace the 50 year old wood frame sanctuary, was barely ready in time for the wedding. Carmen dearly wanted to be married in the new building.
Harold says to this day that he has no doubts about his calling from God to be a preacher. Through good times, hard times, fun times, and even mistakes, he knows he's where God wants him. After graduation from Southeastern, Harold got his Master of Divinity, Master of Christian Education, as well as a Doctorate in Education from New Orleans Baptist Theological Seminary. He has served in pastorates at several churches and has taught at two seminaries (Liberty Seminary in Virginia and Luther Rice Seminary in Florida). During his days as a young pastor, at one of his first pastor's conferences, Harold learned about his mother's prayer request for him as a new born baby. Harold was asked to do the devotional for the conference. Bro. David Coyle was there. When Harold finished giving the devotional for the group, Bro. Coyle, trembling, stood to tell the group about a "red-faced, squalling baby boy", Harold McNabb, that he had prayed for at his mother's request to be called into the ministry. Bro. Coyle thanked God for letting him see his prayers answered and allowing him to see his ministry come "full circle."
In 1993, at the age of 68, Harold retired from the ministry and, with Carmen, moved back to Central. He says his eyes and his legs were giving out on him. He had begun to have to memorize the scriptures for his sermons since he was becoming unable to read them. He was found out by one of his deacons who could see that the Bible he was holding in front of him was upside down. Even though officially retired, Harold says he will always be in the ministry, keeping up his end of the bargain with God. God has more than kept His part.
Above: Harold McNabb with his son David at his home here in Central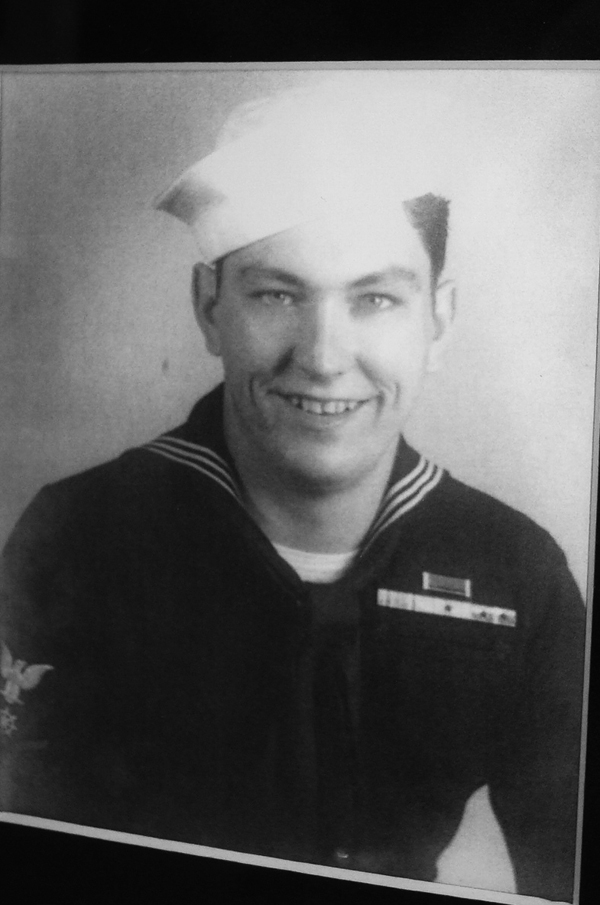 Above: WWII Navigator Harold McNabb in his Navy uniform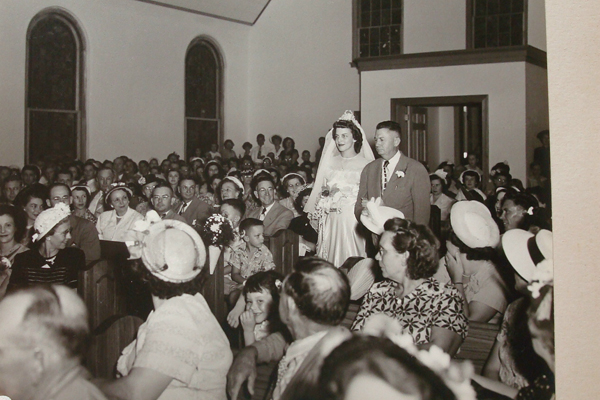 Above: Harold's wife Carmen Miller on their wedding day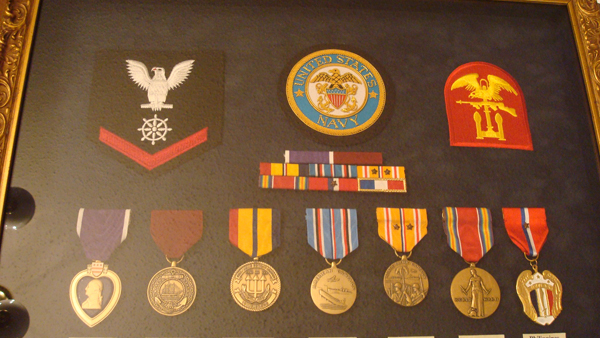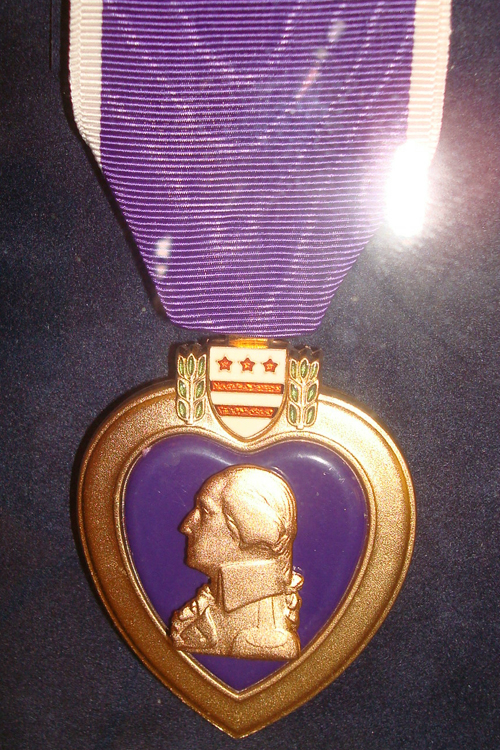 Above: Harold McNabb's Purple Heart