Business
Business Spotlights: Jambalaya House & Carpet Medic
By
|
By Mia Freneaux
2 FRIENDS, 2 BUSINESSES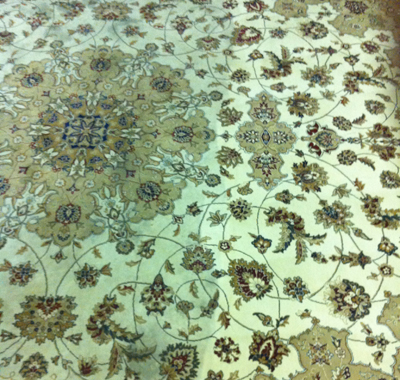 Above: Before (left side) and after (right side) photo of a Carpet Medic cleaning job
Dwyne Guitreau and Brad Rogers have known each other a long time. Unlike most folks who are content watching the ball game together or being fishing buddies, these guys have started not one but two separate businesses together. Brad runs Carpet Medic, a carpet cleaning concern which has been in business for 2 ½ years. Brad, who has over 10 years of experience, personally sees to each of his customer's needs and guarantees their satisfaction. His company specializes in commercial and residential carpet steam cleaning with chemical removal of tough stains such as pet urine, mold, mildew, kool aid, and coffee. This writer was truly amazed at the 10 year old stains Brad removed from my art studio carpet. He offers a 24 hour water extraction service in the case of floods. Carpet Medic is licensed and insured and will take care of your upholstery and automobile carpeting as well. You can reach Brad at 202-6177.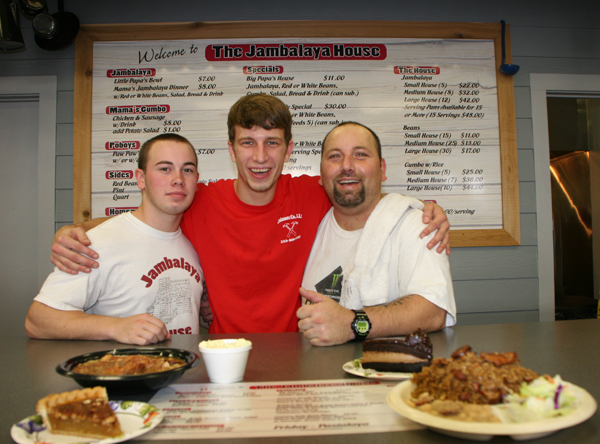 Above: Dylan Guitreau, Brad Rogers, and Dwyne Guitreau (owner) at Jambalaya House
Dwyne is the creative genius behind Jambalaya House. In business now for over a year, Jambalaya House offers a flavorful jambalaya full of tender, moist meat from an old family recipe handed down over the generations. He makes his gumbo from scratch as well, often serving it over the jambalaya in a combination known as "gumbo-laya", a favorite of many lunch time diners. Remember this when considering your holiday meals! Also on the menu is pastalaya, jambalaya poboys, white and red bean dinners, and amazing desserts like chocolate cheesecake and pecan pie. Dwyne does catering any day of the week, and Jambalaya House is open Tuesday through Saturday from 11:00 a.m. till they sell out. Starting in January, Jambalaya House will be open on Sundays as well, offering yet another delicious Sunday dinner option. It is located at 14455 Wax Rd., Ste "T". Call 261-9449 for takeout orders.