Arts/Fun
Wayne and Diane Leader Grand Marshalls of This Saturday's Christmas Parade
By
|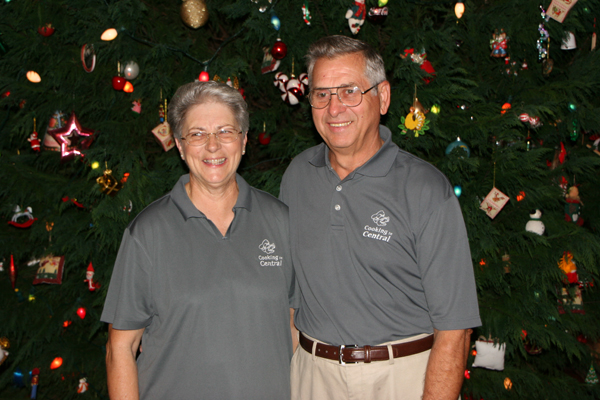 By Mia Freneaux
It couldn't have had better timing. Wayne and Diane Leader have been named Grand Marshalls by the Central Chamber of Commerce for this year's 24th Annual Christmas Parade. Happily surprised by the honor, they shared the vision they had 25 years ago for the City of Central. "We would hold CABA meetings in the little eatery next to the Post Office ," (presently Coach Sid's Shape Up Central), Wayne shared. "We were trying to come up with an idea for an event to bring the community together. Dennis Peevy, former owner of the Four Corners Clothing Store, and I brought the concept of a Christmas Parade, and the very next year it was a reality." Wayne and Diane pointed out the sled that was used for years in the Parade to carry Santa, now given star billing over the front doorway in their home. They truly feel as if they have come full circle.
Always community minded, the Leaders have opened their home every Christmas season since Central became its own city in 2005 for everyone to be able to view their magnificent lights display. The tradition began in 1985, when they decorated just for family. Then they began welcoming employees, and the tradition grew. It takes approximately 3 weeks of solid hard work to put up all the lights, involving every child, grandchild, and friend they can lay their hands on. An over two stories tall tree greets visitors, absolutely covered in ornaments collected by the Leaders or given to them by special friends. Another tree is decorated in LSU style, still another with Christmas villages. A grandson-in-law to be is in the process of painting a Christmas scene on their back windows. The backyard itself features a one acre pond literally circled with lights, with a floating nativity scene and 10 foot star above. The tremendous effort is truly a Christmas gift to Central that the Leaders lovingly create every year.
The Leaders have always believed in hands on effort. They've built their entire home from wood they themselves salvaged from old buildings all over Louisiana. It even has a few pieces from the home Wayne was born in. Stained glass windows from the church where Wayne was raised adorn their side entrance. Their "can-do" mentality is reflected everywhere, from repurposed lockers from the old Alex Box Stadium (now display cases for LSU memorabilia) to the old batting helmet cabinet they are making into a game table. It is also reflected in the businesses they've owned, from the family run grocery store of the past to the self storage unit and car wash of the present. Everywhere, their hard work ethic and dedication to their city is evident. Their lights display is their way of thanking the folks of Central for their support.
The Leaders will open their home every weekend again this year every Friday, Saturday and Sunday, beginning December 3rd and ending December 19th. Hours are from 5pm to 10pm. Refreshments will be served. There is no admission, as always. Go and enjoy what has become a Central tradition after you enjoy the Parade that our Grand Marshalls envisioned all those years ago. The Leaders are truly a huge part of the fabric of our great community.