Business
Magnolia Square, Central's Newest TND, Starts Lake Lot Construction
By
|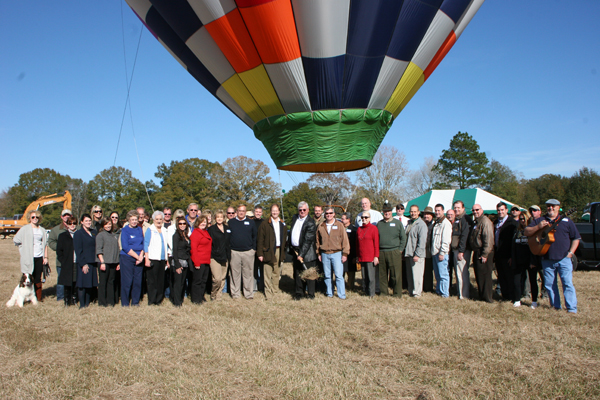 Article submitted by Steele Pollard; Photo by Mia Freneaux
With an excavator and hot air balloon serving as a backdrop for the groundbreaking ceremony, Central's first traditional neighborhood development, Magnolia Square, kicked off phase two lake lot construction. Central Mayor, Mac Watts, had the honor of shoveling the first scoop of dirt as well delivering the keynote address to a crowd of homeowners, civic leaders and city officials on Thursday.
Magnolia Square developers, Jimmy Nunnally and Steele Pollard, said they made their decision to start construction of 19 lake lots after having sold 40 percent of the available phase one home sites. "Our new 19 lake lots will overlook a beautiful 5 1/2 acre lake, stocked with bass and brim.", said Nunnally. "Lots will vary from 70 to 100 feet wide." He indicated that seven of the waterfront lots are already under contract.
Nunnally added, "We are extremely pleased with Magnolia Square's progress. Central has embraced the idea of a traditional neighborhood.. With planned lakes, parks, dining and boutique shopping, Magnolia Square has quickly attracted a lot of home buyers."
Nunnally said that houses in Magnolia Square start around $280,000 and feature large front porches and stately architecture, reminiscent of Charleston or New Orleans. He continued, "Magnolia Square offers homes and lots in a range of sizes; some appropriate for downsizing and some homes appropriate for growing families who desire large yards."
When asked about the expectations of Magnolia Square's long term home values Pollard said, "As is shown in other traditional neighborhoods around the country, Magnolia Square's homes will likely increase in value faster than a conventional development. That is because of the unique character and beauty of each house and because Magnolia Square's amenities far surpass conventional subdivisions."
Home features such as classical architecture, outdoor kitchens and beautiful interiors is what makes Magnolia Square very unique and special, Pollard said. He noted that the outdoor kitchens and oversized garages have proven very popular and sought after features.
When asked why the two developers chose Central for their project, Nunnally said, "It was clear Central was the destination for Baton Rouge area families who wanted a top ranked school district, a safe environment for their kids and great overall quality of life. Combined with easy access to downtown Baton Rouge, building in Central was a smart choice."
Nunnally said the lake lots are expected to be finished in early spring. Anyone interested in inquiring about the lots should call Michele Mortensen at her office 225-654-0207 or her cell 225-939-1742. More information about the development can be found at www.MagnoliaSquareCentral.com. You can also view a map of the development below.