School
Fun and Fundraising at First Annual 5K Rebel Run
By
|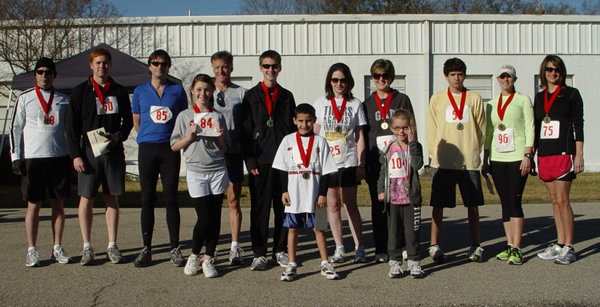 Above: Winners of the 5K Rebel Run (Some were no longer present by the time this photo was taken.)
Submitted by Central Private School
The 5K Rebel Run, held at Central Private School on Saturday, January 8, turned out to be a huge success. Close to 100 runners turned out for the inaugural event sponsored jointly by the Central Private Parents' Club and the National Honor Society.
CPPC and NHS members would like to congratulate everyone who participated in the event. Additional congratulations are extended to those who won medals in the following categories:
1st place finishers by age/gender:
OVERALL WINNER: Male– Sammy Mapes, Female– Ann Middleton
AGE 5-9: Male– Wyatt Coon, Female – Carley Lister
AGE 10-15: Male – Blake Exch, Female – Raven Monson
AGE 16-20: Male- Mitchell Garon,
Female– Linnie Leavines
AGE 21-29: Male– Chad Langlois,
Female– Katie Key
AGE 30-39: Male– Paul-Michael Fryday, Female– Sherry Threeton
AGE 40-49: Male– Chris Flanders,
Female– Michelle Gillespie
AGE 50 & OLDER: Male– Dave Kneiling, Female– Jan Raney
The CPPC and NHS would also like to thank the following businesses and individuals for their generous contributions (sponsorships, door prizes, & other donations):
Dr. Keith Elbourne & Dr. Joshua Best
Joseph Romero
Brad Pines– Canes
Ronald Morris– Louisiana Wildlife Agents Association
Central Drug Store
Walmart (Central location)
Del Brass – Paradise Smoothie
Fox's Pizza Den
Old Sole
Sage Hill
Evan Heck
North Point Family Health
Piggly Wiggly
Spectrum
Curves (Central location)
Winn-Dixie
James Partin
Smooch my Pooch
Snap Fitness
Anytime Fitness
Kim Seguin
Bret Fairchild– Coca Cola
Borden's
David Rodrigue– Community Coffee Company
Krispy Kreme
Oak Point
Southern Paper & Janitorial Supply
Dairy Queen
Mrs. Ellen Frazier
Bank of Zachary
Paul Garon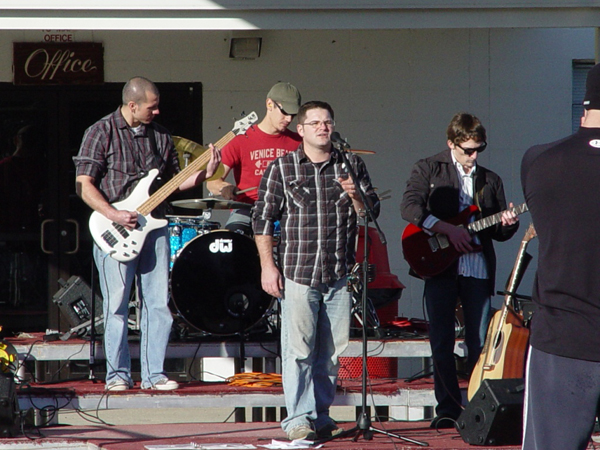 Above: The band Old Sole entartained the crowd at the 5K. Thank you to the band, who donated their time, equipment, and talents to the event.