Community
Celebrate Central's Rotary Club
By
|
By Mia Freneaux; Photos Submitted by Kenny Wall
The excitement that existed 5 years ago when Central became its own city is still going strong today. Our newest service organization, the Rotary Club of Central, was chartered on September 23 of last year and hit the ground running. That very night $600 was raised to feed 10 families an entire Thanksgiving dinner and they haven't looked back yet! Their next project was working a booth at Cooking for the Kids, then sending water to Haiti after the terrible earthquake. For Christmas they supported the Sellers Maternity Home here in Central with a $500 donation. All this accomplished by 17 determined and civic minded businessmen and women.
Rotary International was founded in Chicago in 1905 by Paul P. Harris, who wished to create an organization with "the same friendly spirit he felt in small towns from his youth." The name "Rotary" was derived from the way the meetings initially "rotated" between the offices of members. By 1921, Rotary Clubs had spread to 6 continents and became Rotary International. Humanitarian Albert Schweitzer and composer Jean Sibelius are numbered amongst its members. Today, Rotary is composed of 33,000 clubs found all over the world, all dedicated to their motto, "Service Above Self." Much of what Rotary does has an international scope. In 1942, Rotary held a meeting to encourage international education and cultural exchange. UNESCO was the result. Rotarians actively participate in the United Nations. They support their service Polio Plus, a 25 year old project which is on the brink of seeing the end of polio in the world. Rotary International is the world's largest privately-funded international scholarship source. Their Concentrated Language Encounter is helping to improve literacy throughout the world. Many Rotary Clubs help developing countries obtain water supplies. All of this falls within the Object of Rotary, which is to encourage and foster the ideal of service as a basis of worthy enterprise.
Rotary Club of Central meets Tuesday mornings at 7:30 a.m. in the Board Meeting Room at Demco Headquarters on Wax Road. For more information on Central's newest, and the world's oldest, private service organization, call President Kenny Wall at 405-0428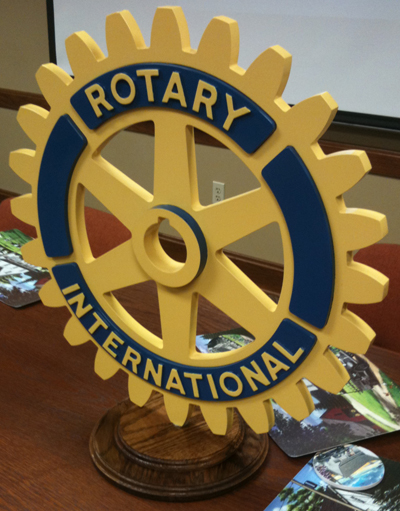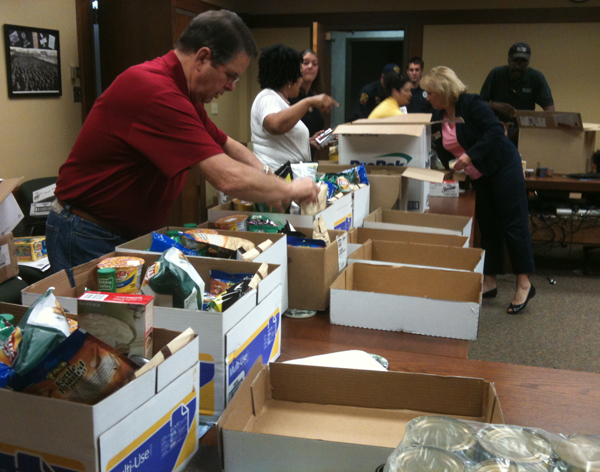 Above: Rotary Members pack Thanksgiving dinners for families in the community.