Sports
Louisiana Quadriplegic Kills on the Hunt Yet Again
By
|
By: Bess Cherry ~ Accredited Freelance Journalist/Reporter
John "J.R." Owens, 20, of Zachary, makes good yet again on his already established deer hunting reputation by killing a ten point buck New Year's Day. Owens' kill, slain on Profit Island in East Baton Rouge Parish, comes exactly one week shy of his second year commemoration on becoming the first known quadriplegic in the state to kill a deer on the first hunt.
"I was paralyzed from the neck down in a dirt bike accident in July 2006. Since then, my life has changed in many, many ways; but, I've been allotted the opportunity to hunt several times since I sustained my injury and have realized that I am still a pretty good shot," says Owens, who with special equipment, killed the buck with one shot, shooting the gun with his mouth.
Owens, a former football player for Northeast High School in East Baton Rouge Parish, graduated in 2009 on the A-B scholastic honor roll.
"I met Trindon Holliday when I was going into my freshman year at Northeast High School," says Owens, "Not long after that, he went on to play college ball at LSU."
Holliday, then a locally famed LSU college football player, is now an NFL star "rookie", playing for the Houston Texans, according to nfl.com.
"Trindon and I still keep in touch; he actually stopped by to visit me last week while he was in town," says Owens.
Owens says that becoming disabled has not kept him from being active. He says he works out almost every day and reports that his health has continually improved during the past four and a half years.
Owens also reports that he is even regaining movement throughout his extremities.
"Last spring, I began raising my legs and wiggling my toes. And just a few months ago, I began opening my hands and feeding myself. It seems to be a slow-go but God willing, I will get back on my feet again," says Owens. "I know I will," he says, "and I thank Jesus Christ every day in advance."
"I would like to thank Andy Bishop for my special hunting gear; I'm putting it to good use," says Owens, smiling.
"I'd also like to thank Keith Roshto and his daughter Macy for allowing me the opportunity to hunt on Profit Island. And I want to thank a good buddy of mine, Austin Lamonte, for accompanying me on the outing. Profit Island is a great place to hunt. The deer population was excellent there this season, and I very much enjoyed the hunt," says Owens.
"This is not just the first buck that I've killed since my injury, but it's also, by far, the biggest one I've ever killed in my life."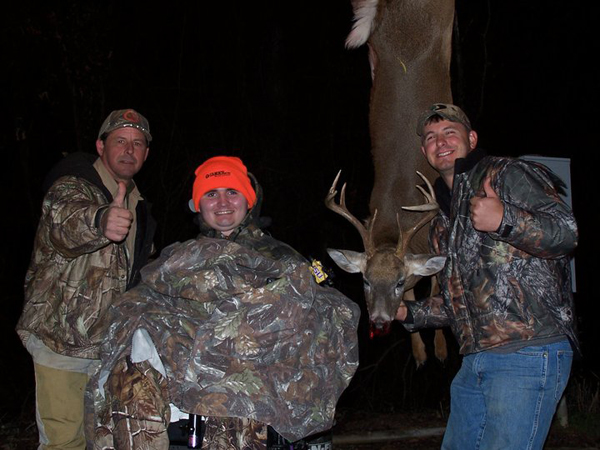 Above: John "J.R." Owens on Profit Island in EBR Parish with Keith Roshto (left) and good friend Austin Lamonte (right) of Central. On July 23, 2006, Owens sustained both a spinal cord and traumatic brain injury when he crashed a dirt bike on Brown Road in Central. On New Year's Day, Owens killed his first buck since becoming quadriplegic. Owens uses special equipment which enables him to hunt, shooting the gun with his mouth. On January 7, 2009, Owens became the first known quadriplegic in the state to kill a deer on the first hunt.