Sports
Central Biddy Basketball Closes Another Year of Fun Competition
By
|
Submitted by Tommy Abbott
This past weekend capped off another great year for Central Biddy Basketball with their league tournament.
Central Biddy Basketball has been a staple in this community for many years. In fact many of the coaches who work with teams today came up through the local organization. This league is also a stepping stone for Central area youth to work their way toward being a member of the Central Wildcat JV and senior basketball teams.
Ron Lewis, the head coach of Central's high school basketball team is the league director and does a fine job of keeping the league running smoothly. He is aided by a team of his basketball players who do everything from keep score to running the concession stand. These players get up early every Saturday morning from November to early February to help with this youth organization.
One player from the Senior CHS Basketball team, Dylan Anders has volunteered his time to act as a guest coach for the Central Slammers 9-10 year old team in the league. He works with individual groups of their players to help them learn little aspects of the game that he wishes he'd been taught early on.
Dylan has inspired these boys more than he will ever know. To nine and ten year olds, the CHS basketball players are like heroes. To have one of them come out give his time and work with them helps develop confidence and lights a fire inside each one.
The Central Slammers were formed in 2009 when a group of parents and players were looking for a more competitive venue for their group of players. The team is coached by Tommy Abbott and Matt Ross and has come a long way in two years. They credit this much to the level of competition they see week in and week out. "This is as real as basketball can get at this level."
The Slammers finished their first year with only two wins and completely turned that around only having two losses in the regular season of 2010-2011.
The league is in need of more teams for the 2011-2012 year which begins in November 2011. There are three age levels in the Central Biddy organization. 7-8 year old boys, 9-10 year old boys, and 11-12 year old boys.
The age groups with the greatest need of teams are the 7-8 year old and the 11-12 year old. We are starting early to get the word out.
The Central Slammers are a prime example of a team that just wanted to play basketball at a competitive level. They decided to form a team from scratch and jump in. If you have any basketball experience from Jr. High School or above we encourage you to come out and coach a team. You can form one yourself or sign up to coach a team. Some of the existing coaches will even assist in getting a team up and running.
If you have a son who wants to play where they keep score and play at a competitive level, call one of the contacts below. Whether your child is very skilled or just starting out, this league is the place for you. It can provide structured development and give the entire family some of the best entertainment and fun that is offered in our community.
The Slammers coaches can attest to the fact that this experience has been one of the most fulfilling in their lives! Come and join in and see what Central Biddy Basketball has to offer.
You can contact the following people for additional information:
Ron Lewis, Central High School, Head Basketball Coach (After 5:00 PM)
(225)-202-0194 (Cell)
Tommy Abbott, Central Slammers
(504)-722-6638 (cell)
(225)-261-9580 (home)
Visit the Slammers Web site @: http://centralslammersbasketball.shutterfly.com/
For more info on the National Biddy league please visit: http://www.biddybb.com/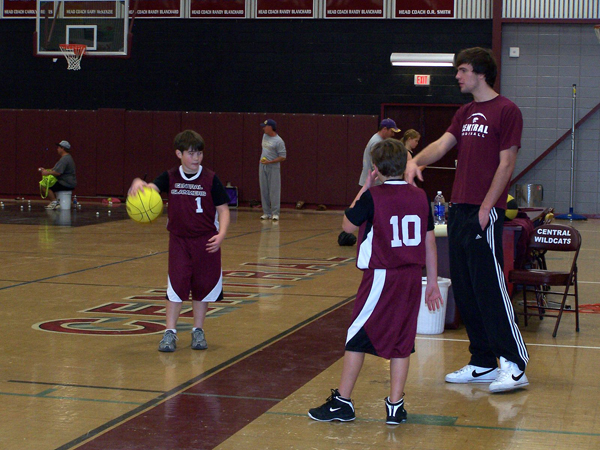 ABOVE: Central High's Senior, Dylan Anders instructs Central Slammers' players, Brock Kaufman and Max Bryant how to post up on another player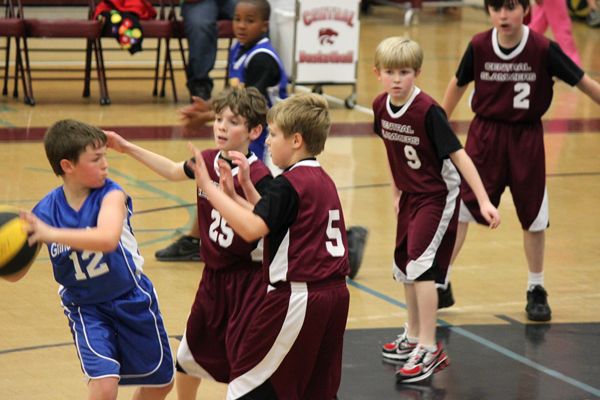 ABOVE: Central Slammers, Quint Guerin (25) and Jared Abbot (5) double team a member of the Live Oak team in their recent win while Justin Nijoka (9) and Peyton Ross (2) defend the backside.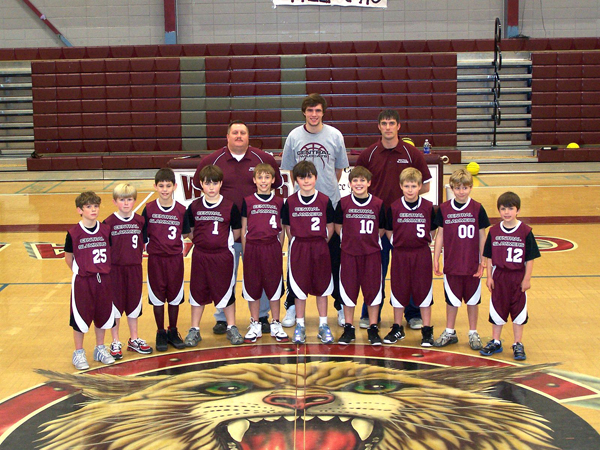 ABOVE: Central Slammers team members of their 2010-2011 team. (Front row left to right) Quint Guerin, Justin Nijoka, Brayden Messmer, Max Bryant, Landon Rivet, Peyton Ross, Brock Kaufman, Jared Abbott, Landen Thode, and Cullen Ross. (back row) Coach Tommy Abbott, Dylan Anders, and Coach Matt Ross