Business
Lane RMC Identified as One of the Best Places for Nurses to Work
By
|
Submitted by Julie Madere
Lane Regional Receives Pathway to Excellence Designation and Identified as One of the Best Places for Nurses to Work
The American Nurses Credentialing Center (ANCC) has honored Lane Regional Medical Center with the Pathway to Excellence designation – making it the ONLY hospital in Louisiana and one of just 56 hospitals in the nation with the distinction.
The Pathway to Excellence designation identifies the elements of a positive work environment where nurses can flourish. The designation also recognizes the professional satisfaction of nurses at Lane and identifies Lane as one of the best places to work.
"As a Pathway to Excellence hospital, Lane Regional is committed to nurses, to what nurses identify as important to their practice, and to valuing nurses' contributions in the workplace," says Jennifer Johnson, Chief Nursing Officer. "This designation confirms to the public that nurses working here know their efforts are supported, and that Lane is a great place to work."
For an organization to earn the Pathway to Excellence distinction, it must successfully undergo a thorough review process that documents foundational quality initiatives to create a positive work environment – as defined by nurses and supported by their research. These initiatives must be present in the facility's practices, policies, and culture. Nurses verify the presence of such criteria through a confidential online survey.
Lane Regional Medical Center is a 141-bed regional facility serving Zachary and the neighboring communities of Baker, Clinton, Central, St. Francisville and southern Mississippi. Providing a full range of inpatient and outpatient services, Lane supports cardiovascular, orthopaedics, labor & delivery, general surgery, in-patient rehabilitation, hyperbarics, sleep medicine, diabetes and vascular programs. With more than 700 staff members, Lane is the largest employer within the city of Zachary. The hospital continues to grow and invest in the community by recruiting new physicians. For more details, visit LaneRMC.org
The ANCC, a subsidiary of the American Nurses Association, provides individuals and organizations throughout the nursing profession with the resources they need to achieve practice excellence. ANCC's internationally renowned credentialing programs certify nurses in specialty practice areas; recognize healthcare organizations for promoting safe, positive work environments through the Pathway to Excellence Program; and accredit providers of continuing nursing education. Learn more at nursecredentialing.org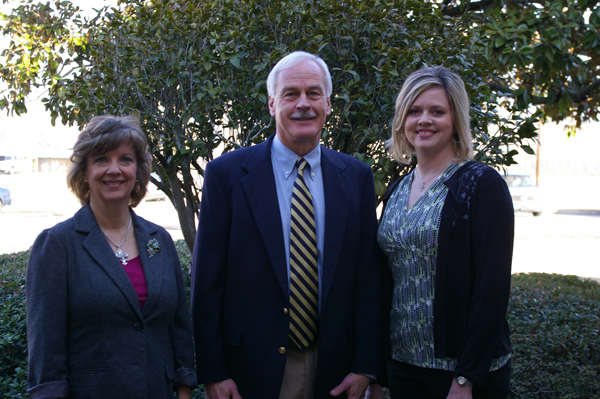 Photo L-R: Jennifer Johnson, CNO; Randy Olson, CEO; and Karla Miller, Excellence Coordinator for Lane Regional Medical Center