Gov't
Twelve Central Bridges Deficient
By
|
By David Barrow, Assistant to the Mayor's Office; Photos by Michael Spangler with Expressions Photography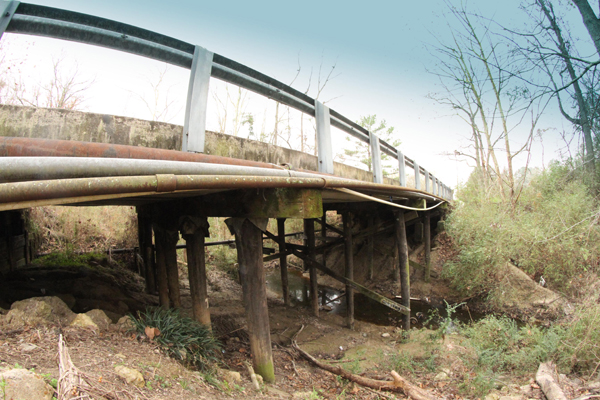 The Pecos Dr. Bridge, which received a 1 ranking- the worst possible.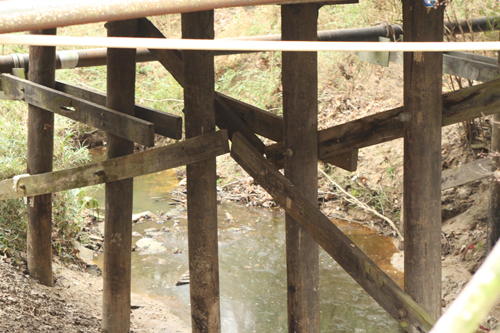 The bottom structure of the Pecos Dr. bridge
A recent report of bridge ratings around the parish lists 12 bridges in the city of Central with deficiencies. The parish of East Baton Rouge is responsible for bridge maintenance throughout the parish with the use of State Off-Road Bridge funding. Bridges are inspected and rated on a scale of 0-10, with 0 being the worst and 10 being the best. In the rating system a "3" is called Serious, a "2" Critical, and a "1" is "Imminent Failure Condition". Here are the 2010 rankings of bridges in Central with a "5" or less according to a recently released report of East Baton Rouge Parish Bridges:
Ranking
1 – Pecos Dr bridge over Shoe Creek
3 – Lovett Rd over Shoe Creek
3 – Dyer Rd over Blackwater Bayou
4 – Country Estates Ave over drainage bayou
4 – Morgan Meadow Dr over drainage bayou
4- Talmadge Crumholt over Blackwater Bayou
4 – Carey Rd over Blackwater Bayou
4 – Arleen Ave over Saunders Bayou
5 – Pinewood Drive over Beaver Bayou
5 – Frenchtown Rd over Beaver Bayou
5 – Devall Rd over drainage bayou
5 – Denham Rd over drainage bayou
The bridge on Pecos Drive over Shoe Creek has severe deficiencies and is posted with a weight limit of 5 tons. However, overweight vehicles such as garbage trucks and school buses regularly cross the bridge. The bridge serves as the only way for residents on Pecos Ave and Conestoga Drive to get to their homes. Should the situation worsen, the bridge could be shut down, forcing residents to have to park their cars and walk to their homes. Mail service and garbage pickup could be hampered as well.
When Hampton Village was developed several years ago under City-Parish control, a stubout on Pecos Drive could have connected the two subdivisions. The connection was not made at that time and homes have since been built making that an impossibility. Central's Planning & Zoning Committee, supported by the Council, has strongly promoted and sometimes mandated connectivity of neighborhoods when new developments are approved for construction. This access issue is one of the reasons for that stance.
East Baton Rouge Mayor-President Kip Holden is considering proposing another bond issue to help repair 87 bridges throughout the parish that have a ranking of "5" or below. However, Metro Councilman Chandler Loupe, who represents a large area of southern EBR parish, claims there is enough money in the parish budget to repair all bridges with a ranking of 2 or lower.
An informational briefing to update the EBR Metro Council on the status of bridges in the parish will be held at 2:30 p.m. Wednesday, February 23 in the Metro Council Chambers downtown, before the regular council meeting at 4pm.