Community
Orrin Byland Earns Eagle Scout
By
|
Submitted by Linda Chapman
Orrin is the son of Matthew and Jan Byland of Central and is a senior at Central Private School. For his Eagle project, Orrin constructed a covered shelter at the edge of Central Private Upper Elementary School. The trellised swing provides a shaded area for teachers to sit and supervise students while on the playground. Besides earning all the required merit badges for the Eagle rank, Orrin has also served on staff at summer and winter camp at Camp Avondale, built mountain bike trails at Bridger-Teton with ArrowCorp5, and was a member of BSA Southern Regions Venturing Crew to the 2007 World Scout Jamboree in Chelmsford, England. Orrin is a member of Troop 13 chartered by Blackwater United Methodist Church where his father serves as Scoutmaster.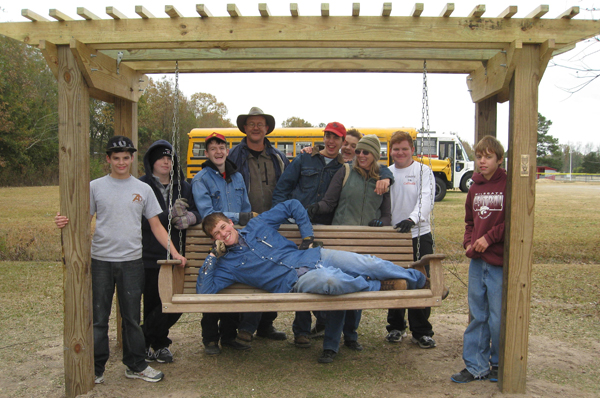 Pictured are members of Troop 13 who helped Orrin complete his Eagle project.
From left to right are Dustin Sinclair, Garrett Jarvis, Lucas Byland, Matt Byland, Andrew Sibley, Zane Byland, Linda Chapman, Jimmy Hammond, and Jesse Allen. Orrin is testing out the swing.