Sports
Chet Myer Inks with Hinds Community College
By
|
Photo by Michael Spangler of Expressions Photography
Article submitted by Frank Fresina, CHS Assistant Athletic Director; Press Release from Hinds Community College
Sam Temple, head baseball coach at Hinds Community College, has announced the signing of Chet Myer, a pitcher/outfielder at Central High School in Baton Rouge, La., to a baseball scholarship for the 2012 season.
Myer is a two-time All-District selection as a utility player by The Advocate newspaper in Baton Rouge. "Chet is a multi-talented athlete that has a lot of upside both on the mound and in the outfield," Temple said. "He has an upper 80s fastball right now with the potential to throw harder down the road due to his frame and athletic ability. He is also a very good outfielder who is off to a nice start offensively in his senior season."
Myer is the ninth signee so far in the Eagles 2012 recruiting class, joining eight Jackson Metro area standouts that inked with Hinds in January.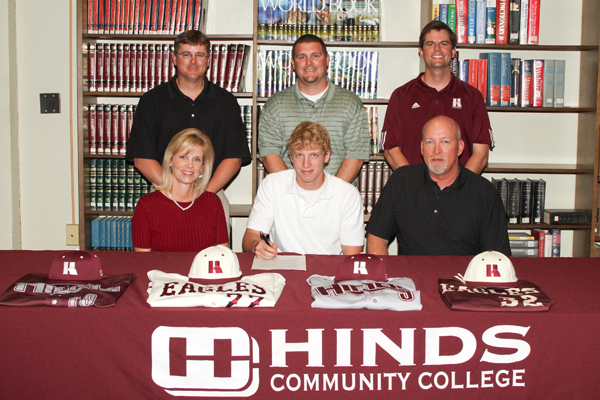 Seated (L to R): Edie Myer (mother), Chet Myer and Austin Myer (father). Standing (L to R): Hinds head coach Sam Temple, Central High head coach Chris Mire and Hinds asst. coach Dan Rives