Community
Camdyn's Mission Finds Support from Local Schools
By
|
Submitted by Becky Fehr
Camdyn's Mission collects brand new stuffed animals and brings them to area hospital ERs and surgery centers for the kids there. Camdyn, at age 5 (she is now 6), started this mission after she, herself, had her tonsils out and had to go to the ER after complications from the tonsilectomy. She wanted to be sure that kids in the hospital had a stuffed animal so they wouldn't be afraid.
Ms. Smith, Camdyn's 1st grade teacher, wanted her students to help out, so she, along with 2 other 1st grade teachers at Bellingrath Hills Elementary (Mrs. Lively and Mrs. Hartung), got their students to donate stuffed animals.
Then we got a call from Central Private School that Mrs Coon's National Honor Society had been collecting also.
On March 11, 2011, Camdyn's Mission delivered 226 stuffed animals to OLOL Pediatric ER (see photo at bottom right with Camdyn and her brother Millen). This has brought the total of stuffed animals delivered to over 1,000!
If you would like to help by donating brand new stuffed animals, or monetary donations, please call 939-0310.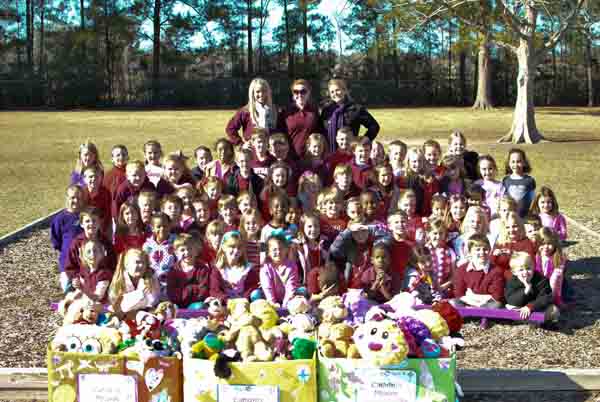 Mrs. Smith, Mrs. Lively, and Mrs. Hartung with their 1st grade classes and the donations they collected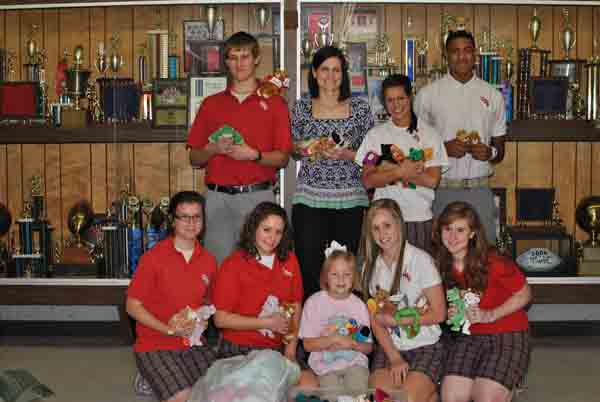 Mrs. Coon's National Honor Society at Central Private with Camdyn