Sports
Central Takes 3 of 4 from Lafayette's Best
By
|
By Josh Walker
Photo by Expressions Photography
The Wildcats had their work cut out for them as they had to take on three of the top ten teams in the state in three days, but they rose to the challenge. The Wildcats took on #5 Acadiana Thursday in the first day of the Atchafalaya Challenge. Central struck for two in the first on a Chet Myer 2 RBI double. Myer (4-0) also pitched six solid innings giving up three earned runs and striking out four. Down 4-3 in the top of the 7th, Zack Edgens hit a single to score Jared Roberts, and Cameron Cason scored during a Sam Doucet run-down between first and second to give the Wildcats the lead. Kelby Blalock got the save in the Wildcats' 5-4 victory.
Central came up just short on Friday against #1 Lafayette. The Wildcats were led by home runs from Doucet (1) and Brett Courville (2). The Wildcats' 11 runs were not enough to beat the hot-hitting Lions of Lafayette as they came from behind to win 12-11.
Central opened their Saturday doubleheader with #10 St. Thomas Moore. Chet Myer went 2-4 with 3 RBI's and Brett Courville went 2-3 with a home run (3). The Wildcats were led on the mound by Dylon Buhler who gave up two earned runs in 4 2/3 innings of work. Mason Crawford pitched a solid inning in relief, and Sam Doucet saved (1) a Wildcats' 8-5 victory.
In their second game, the Wildcats were able to handle Carencro thanks to the hitting of Chet Myer (3-3, 2 RBI's), Jacob Lesage (1-3, 1 RBI), and Dylon Buhler (2-4, 1 RBI). Central held the Bears to four earned runs with John Fralick (2-0) getting the win.
The Wildcats' recent success has helped them jump to #12 in the power rankings. Central plays at home today against Episcopal at 4 and Saturday at home against Scotlandville at 1.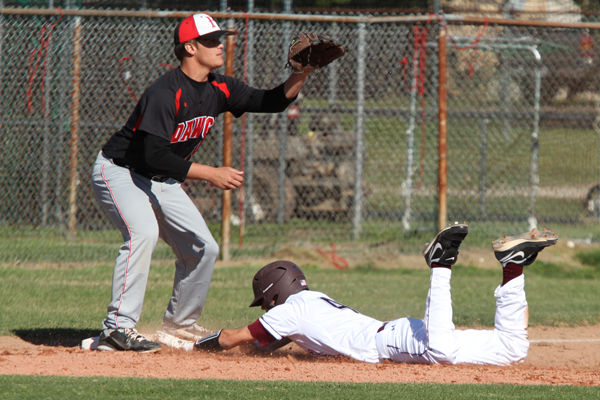 ABOVE: Jared Roberts dives to safety