Business
Business Spotlight: Central Florist- For All Your Floral Needs
By
|
Article & Photo by Mia Freneaux
Melissa Guilbeau can hardly remember a time when she wasn't involved with flowers. The owner of Central Florist, Melissa recalls when she was 3 and her mother worked at Central Florist when Evelyn Andrews owned it. After spending some time in college, Melissa decided to work in her mom's flower shop, and started designing arrangements when she was only 19. After working out of her house for a while, Melissa opened Central Florist in March of 2006, now located next door to Central Drug Store. Unlike national on-line florists, Melissa takes personal pride in her creations, taking into account her clients' specific tastes and desires to create a completely unique and beautiful design. "I care about what each and every person wants," Melissa says, "I like to treat every bouquet like I'm making it for my mom. It's personal – not cookie cutter."
When a client walks in her shop, she shows them various arrangements to get a feel for what they are looking for. She helps them choose a container, select special flowers, and decide on a color scheme. The shape, color, and material the container is made of dictates whether an arrangement is more formal or casual. A freestyle arrangement is usually in a vase, and the greenery holds up the flowers. A formal arrangement uses oasis, the green spongy material that the stems are pushed into to hold them up. Examples of formal arrangements are funeral sprays, holiday arrangements, and many wedding pieces. "It's a designer's business," Melissa states, "You have to know color, shape, texture, and how to put it all together." Melissa is a licensed floral designer, having passed a tough examination to have the privilege. "You have to create several arrangements in the exam, for example: an altar arrangement, a corsage, a low arrangement for a dinner party, and a funeral spray.. They must be able to withstand transportation." Louisiana is one of only 2 states that requires licensed floral designers to be on staff at every florist shop.
Melissa notes that running a florist shop is more than just arranging bouquets. "You have to tend the flowers from the time they come in the door until they leave. They must be hydrated properly or they will die." Tending the product involves recutting the stems and placing them in fresh water daily, so that a bouquet will last on average about three to five days, unless you request a long lasting arrangement, then it should last at least a week and this is "looking good". Melissa's plant material is turned over weekly so she can offer her clients the freshest, most beautiful flowers. She suggests a few tips for anyone purchasing flowers- "Keep in mind that strong smelling flowers have the shortest life – all their energy is going into scent production. If you want a special type of flower in your arrangement, be sure to tell your florist at least a week ahead of time so it can be ordered for you.. It is a good idea to give your florist at least a week's notice for any special arrangement. If you need to send flowers to an out of town address, google that address and get the name of a local florist to call. That way, all of your money is going into the arrangement, not in fees."
Melissa has been arranging flowers for so long that she finds it difficult to put her "system" into words. It is now instinctual. She personally oversees delivery of wedding flowers and family pieces for funerals. She and her dedicated staff are available to attend personally to all of their clients' floral needs. They understand that flowers represent a special event, not just a business transaction, and that their clients' satisfaction is the highest praise they can receive. Call 261-6482 for more information or stop by at 13561 Hooper Road. Central Florist is open Mon. – Fri. 9:00 to 4:30 and Sat. 9:00 to 1:00.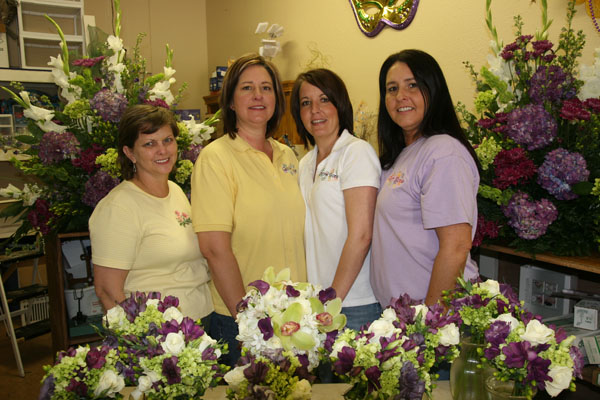 ABOVE: The staff at Central Florist includes Gloria, Melissa, Cherese and Lisa. Dee is not pictured.