Business
Caliente: Central's Newest Mexican Restaurant
By
|
By Mia Freneaux
Everyone who lives in Central knows you need go no further than Wax Road to find genuine, delicious Mexican Cuisine. Caliente Mexican Craving is now in its third year of business, and business is booming. Owner Ricardo Barraza has expanded his facility this year in the midst of economic hard times, and the place is packed. How to explain? Siimple. Good, quality food combined with excellent wait staff is the reason for their success. Ricardo, who was born in Parras, Mexico, knows the recipe well. He has been in the restaurant business for over 10 years. He came to Central when he married local girl Jessica Jones, and together they have selected a menu of traditional Mexican dishes to bring Central a taste of the authentic. Ricardo and Jessica, who live here in Central, also worked with their head chef to create their signature dishes. The Morelia Steak, Ricardo's personal favorite, is grilled to the customer's requirements and seasoned with a special Morelia sauce – a secret recipe that spells dining delight. The Cangrejos Fritos, fried soft shell crabs, are an exciting shift from the ordinary when it comes to seafood. The Caliente Kabobs are tender chunks of steak, chicken and vegetables beautifully presented and accompanied by Morelia Sauce. The Crawfish Bread sounds like an appetizer – but don't believe the portions are small. It is a huge platter of crusty bread topped with a mouth watering sauce swimming with crawfish – a nod to Cajun with a definite Mexican twist. Caliente also features signature margaritas, with specials on Monday through Wednesday from 3 PM until close, and HOMEMADE desserts! Coach Frank Fresina, a frequent patron, while dining on the shrimp quesadillas, had this to say: "The quesadillas are great quality! I've never had anything here that wasn't well seasoned. They do a good job of meeting the customer's expectations. I'm always highly satisfied and very appreciative of what Ricardo does for our community and our schools."
Caliente, beautifully decorated with original abstract art and brilliant colors, displays a modern, trendy vibe with a great atmosphere for relaxed, casual, sit-down dining. "Our goal is to provide the best Mexican cuisine, the best quality, in the area," Ricardo asserts. "I hand select all the produce and freshly made tortillas. We chose the name "Caliente" because it reflects what we're trying to present with our restaurant – a warm atmosphere, excellent food, all the ingredients for a great dining experience." They occasionally have live music to add to that special night out.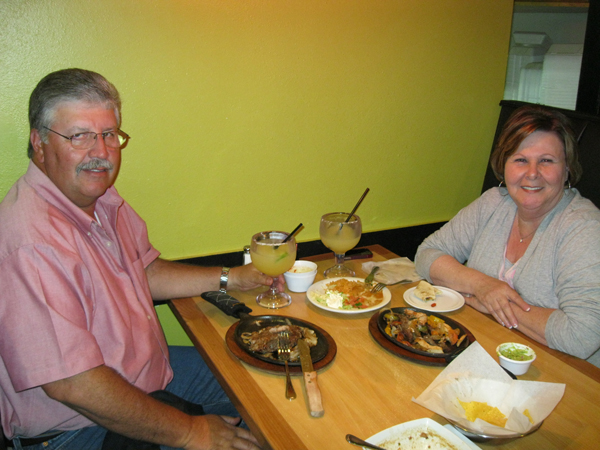 Norma and Hugh Crousillac, celebrating his 60th birthday (happy birthday, Hugh!), said it's "one of our favorite places to go."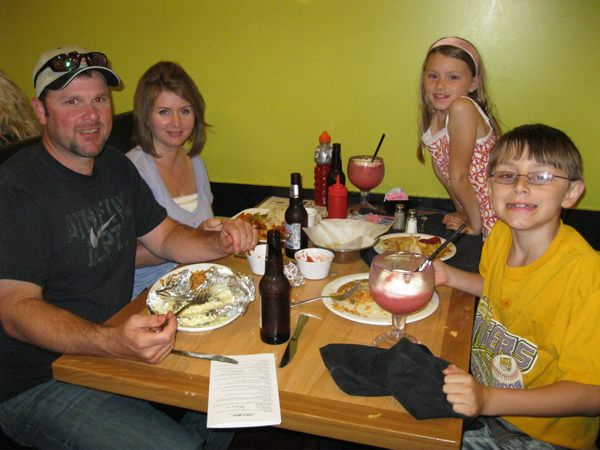 Robin and Gina White brought their children Dylan and Brianna for a comfortable family dinner. "We love this place," Robin stated, "They have very fast service and good food – it's awesome!"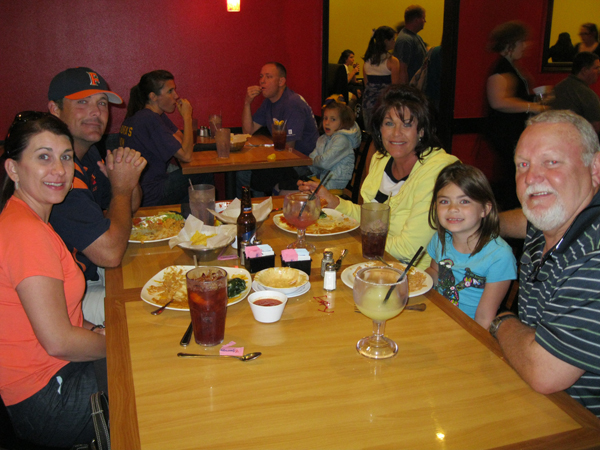 Rick and Kay Lambert came out with Mike and Lori Kimbrell and their daughter Charli to celebrate the opening of the CAYL tournament. "We come here about once a week!" said Rick.
Caliente offers a large room for private events, along with catering. They cater and deliver lunches to businesses. They are affordably priced and have a courteous and professional wait staff, all local residents. When you dine at Caliente, it is important to remember you are not just having a wonderful evening out, but you are also supporting our local schools and community with your tax dollars. Caliente is open M-Sat 11-10 and Sun 11-9:30 and located at 14455 Wax Road, Suite F. Call 262-2681 to order your catering. No reservations required.