Gov't
Sec. of State Speaking at Republican Women of Central Luncheon April 20
By
|
Submitted by Betsy Otkin Barnes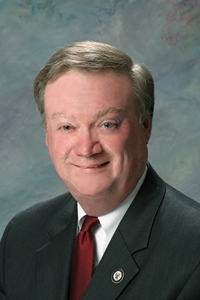 One of our state's most seasoned and experienced elected officials, Secretary of State J. Thomas "Tom" Schedler, will be the special guest speaker for the April 20 Membership Meeting and Luncheon of the Republican Women of Central (RWC). The meeting will be held at Sammy's Grill in Central from 11:30a.m. to 1p.m.
Schedler has expertise in the process of re-drawing district lines having been a state representative for three terms and during the last census of 2000 and redistricting that followed. Not an easy task, and now he is responsible for implementing the many pivotal changes in upcoming November elections for district and state officials. Demographics will likely change. Based on 2010 Census results, Central may potentially receive an additional senator if their challenge on accuracy of population is successful.
Schedler is known for being comfortable with the details, understanding the mechanics of the task. He was sworn in as Secretary of State on Monday, Nov. 22, 2010, when then-Secretary of State Jay Dardenne was sworn in as Lieutenant Governor. Schedler was appointed first assistant secretary of state in December of 2007 by Dardenne.
He plans to run for his first statewide election in November seeking to keep his job for the next four years.
Redistricting plans, changes in voting precincts, legislative issues related to bills on voting are among the topics to be addressed by Sec. Schedler. His expansive department oversees all voting machines, working with the Clerks of Court and Commissioner of Elections across the state.
Simultaneously, he continues streamlining of functions of the Secretary's office, overseeing a myriad of state activities, corporation division, UCC filings, maintaining and managing state museums and state archives.
Schedler was a keynote speaker at the Louisiana Federation of Republican Women Biennial Convention held in Monroe March 25-27.
Schedler was first elected to the Louisiana State Senate in 1996 and served three terms representing Senate District 11 which covers parts of St. Tammany and Tangipahoa parishes.
His governmental experience consists of serving on the Slidell City Council from July 1990 to January 1996, having been elected president and vice president of that body during his terms of office. He was also the president of the St. Tammany Municipal Association in 1995 and served as chairman of the Slidell Board of Zoning and Adjustment from 1984 to 1990.
He received numerous awards and honors during his legislative career, including Legislator of the Year from numerous health care related groups in the state such as the Rural Hospital Coalition, the Louisiana Hospital Association, and the Metro Hospital Council
of New Orleans, State Hospice Organization, several mental health associations and the nursing home industry. He has also been honored as a champion of business several times over.
He was named Legislator of the Year by the Alliance for Good Government in 2000 and Republican of the Year in 2006 at the Annual Lincoln/Reagan Banquet. He was elected to two terms as a member of the Republican State Central Committee; by his peers in the Senate to serve as chairman of the Republican Delegation; and attended the 2000 Republican National Convention in Philadelphia as a George W. Bush delegate.
Professionally, he is a licensed Louisiana real estate broker, serves on the Board of Trustees of a 156-bed regional hospital and medical center and serves on the advisory board of Whitney National Bank of New Orleans. He held the position as director of a hospital health foundation and was the director of managed care services and business development for a 172-bed St. Tammany Parish hospital. He served as president/chief executive officer and a member of the board of directors of a local savings bank, board member of an $800 million regional national bank and president of the Rotary Club of Slidell and is a Paul Harris Fellow. He was also a member of numerous civic organizations and is a CASA trained court appointee.
Schedler was born and raised in New Orleans. He graduated from De La Salle High School in 1967 prior to receiving his Bachelor of Science in marketing from the University of Louisiana at Lafayette in 1971. In 1999, he was honored by his high school as one of De La Salle High School's 125 outstanding graduates over the school's first 50 years. In 1991, he graduated from the Leadership Louisiana program sponsored by the Council for a Better Louisiana. In that same year, he was also honored as Slidell's Citizen of the Year and Slidell's Employer of the Year. He and his family were also nominated for the Slidell Family of the Year.
Schedler is married to his wife of 39 years, the former Stephanie Gelé of Lafayette. She owns and operates hospice programs in Louisiana and Mississippi. They have three daughters and two grandchildren. He and his family are Roman Catholic and members of Our Lady of the Lake Church in Mandeville. He resides during the week in Baton Rouge with his primary residence in Mandeville.
RWC members and guest are invited to attend. Cost for the meeting including lunch and free door prize ticket $15. Annual active and associate membership is $35, and all registered Republicans are welcome to attend.
An RWC Raffle started at the last meeting on March 14th will be drawn at the May 18th meeting. Raffle tickets are $3 each or 4 for $10. Fabulous raffle prizes include a gorgeous framed tiger print from Ashley Furniture valued at $400; a Mike Anderson's Seafood Gift Basket from Mike Anderson valued at $250 and a gold and silver necklace and earrings from the RWC valued at $75. Tickets can be delivered in the Central and Baton Rouge areas. Prizes can be seen on www.facebook.com/republicanwomenofcentral.
For reservations, more information about membership, sponsorship, donations, raffle tickets and upcoming events, please email RepbulicanWomenOfCentral@yahoo.com or visit our website at www.lfrw.org/republicanwomenofcentral.