Business
Business Spotlight: Dr. Mark W. Garon, D.D.S. Opens Central Branch
By
|
By Mia Freneaux
Central is growing yet again! Today, April 7, Mark W. Garon, D.D.S., will be opening his newest branch here in Central. Dr. Garon is a pediatric dentist with over 25 years experience, who has taken special courses that allow him to treat even the youngest patients with the latest techniques and understanding to reduce anxiety and provide the best dental care. Dr. Garon, who attended Louisiana State University Dental School, completed an additional two years' of study to specialize in treating children from infancy through 19 years of age. He is certified in Pediatric Dentistry by the University of Alabama School of Dentistry, and has attained additional honors from the Chauncey Sparks Center for Developmental and Learning Disorders at the Children's Hospital in Birmingham and the Cerebral Palsy Fellowship. Dr. Garon, who has also been published, is a member of the American Academy of Pediatric Dentistry, the Louisiana Dental Association, the Louisiana Pediatric Dental Association, the Southwestern Society of Pediatric Dentistry, the Sixth District Dental Association, the American Dental Association, and the Academy for Sports Dentistry. "I prefer to spend a lot of time with the children," Dr. Garon said, "If they are under 3 years of age, I examine them while they sit in their parent's lap. The first visit is to basically get them accustomed to the dental setting." An initial visit includes taking a dental history and talking with the parents. "I recommend bringing a child for their first dental visit when they are under one year of age," states Dr. Garon, "I can then have a talk with the parents and inform them about diet, tooth brushing, fluoride supplements, all the habits that lead to good dental health." Early examinations help to determine if there will be any potential orthodontic issues as well, allowing the dentist to intercept and prevent problems from occurring.
In addition to training in interceptive orthodontics, Dr. Garon has had specialized training in Sedation, Behavior Management, and Pediatric Communication. He has also received training and experience in dealing with medically compromised patients, such as children with Cerebral Palsy or developmental problems. His staff consists of "Expanded Duty" dental assistants, which means that all of them have attended supplemental classes at the Dental School in New Orleans to equip them to meet the special needs of children. They will be seeing patients in the same office space as Sherman and Balhoff. "We will be working hand-in-hand," Dr. Garon explained, "It's a great partnership. Steve (Sherman) and I were classmates." They are looking forward to sharing a joint Grand Opening.
Dr. Garon will have office hours in Central on Thursdays. Come by 14465 Wax Road and meet everyone at Mark W. Garon, D.D.S. Pediatric Dentistry today! Call 654-7760 to set up an appointment, or visit their website at www.garondds.com for more information.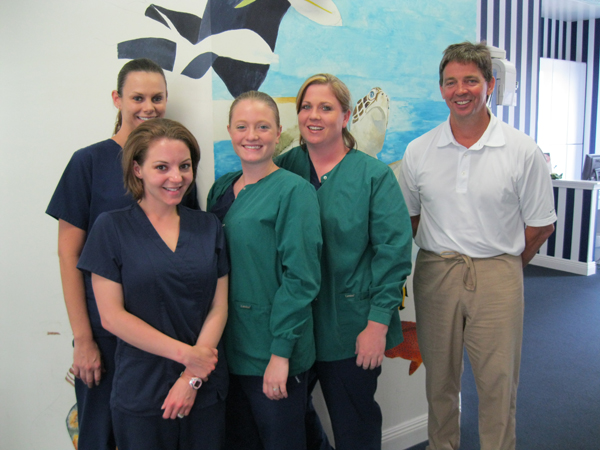 Pictured above with Dr. Garon are Kim Wambolt, Jessica Chase, Amber Brown and Deanna Fudge (office manager).