Community
A Walk into the Past
By
|
By Mia Freneaux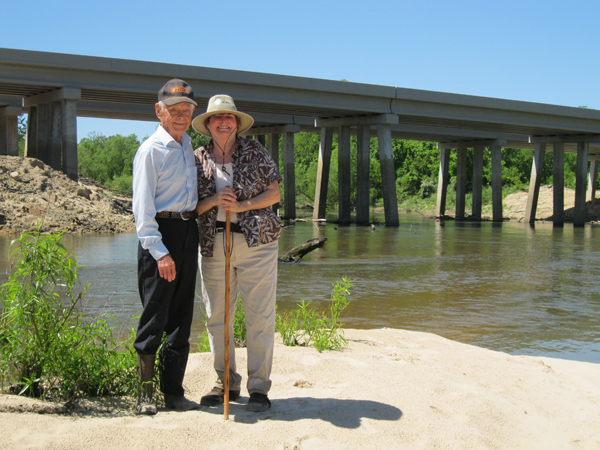 As I hiked in the woodsy undergrowth, my guide held a branch back for me to pass and asked with a gentle smile, "I'm not going too fast for you, am I?" "Not a bit," I panted in return. He turned and strode on, gracefully avoiding the vines I'd been tripping over and the holes in the ground I'd been turning my ankles on. I was on a real adventure. Vicki Carney, president of the Central Historical Society, had lined up this hike for me. She and I toiled on together behind our sure-footed guide, grateful it was a cool, lovely day. Our guide never seemed to break a sweat. Why is this remarkable? Mr. Leo Summers, our guide, is 91 years old and legally blind with macular degeneration. He was showing us around the new park area just purchased by BREC. "This path leads to the old Indian Mound," he pointed. He shared that in the 1950's, Native Americans would come from Alexandria in 2 busloads to this very site. It held great significance for them. "Mr. H.O. Stafford raised cows down here," he said, "When he would break up the land for hay he would find Indian relics."
As we walked through the tangled woods, alive with bird song and the perfume of honeysuckle, I reflected on how fortunate we were to have such natural beauty right here in Central. Trillium and Jack-in-the-Pulpit strewed themselves under our feet, and swags of blossoming bushes shaded us overhead. "This was all originally the old Droze Plantation," Mr. Summers shared, "They raised sugar cane here in the 1800's." Mr. Summers, a walking history book, has been on this land since 1952. He raised his family of 3 boys and a girl here, remembering how much they enjoyed hiking, hunting, fishing and swimming on the property. Summers Road is named after his family. He is one of 13 children, 3 of whom survive. Pierce, his 92 year old brother, still lives in Central. His youngest brother lives in Denham Springs. "My mother, formerly a Blanchard, taught in a one room schoolhouse here in Central and was the postmistress for Comite, Louisiana (now the intersection of Greenwell Springs and Sullivan Roads)," Mr. Summers reminisced, " My dad was the Dipping Inspector. He would dip cows for fever ticks every other Saturday. He also farmed. I attended the wood sided school, then the brick one. Mr. J.D. Woodard was principal back then. He lived across the street in the Teacherage. I graduated in 1940, then enlisted. At one point my mother had 6 sons all serving in the military in World War II." Remarkably, all 6 came home safely.
We passed a canebrake of enormous bamboo. Mr. Summers paused to say, "Students would cut these and dry them and use them for poles in pole vaulting. They had to stop when several boys used canes that had become too dry and brittle. The canes snapped and the boys were killed."
Mr. Summers, carefully breaking branches so they wouldn't hit us, laughed as he remembered the rumors of "hauntings" on French Town Road. "That would have been Harry and Joan Guillory," he smiled, "Kids would go parking at the railroad trestle on Fridays and Saturdays, and the Guillorys would dress up like witches to scare them off!" (Go to Facebook and search for "Frenchtown Road Urban Legends" and you will see page after page of reminiscences of scary experiences. Many in Central have never forgotten!)
Passing patches of light green fern, we came to a huge live oak. Mr. Summers remembered how it had stood through the years, occasionally losing branches in bad weather. Its enormous girth spoke of its ability to withstand the passing of the years. Something about that tenacious tree reminded me of Mr. Summers….
Our guide then pointed out a 15 foot deep ravine. "This is the old Comite River Bed," he informed us, "When it floods or there's a heavy rain, some of the water remains in here." We passed several river "bottoms" along the way, some still full of water. Mr. Summers said, "Where the bottoms are depends on whether the Amite or the Comite Rivers flood. During the flood of 1983, the water rose 11/2 feet over the railroad trestle!" Several times he would pause to point out places where the river had risen even over the bluffs, over 20 feet. We came to Mr. Summers' favorite fishing spot on the Comite, a steep 15 foot drop down to the river that he made effortlessly. We were now walking on the sand bar along the Comite River, and it is beautiful and peaceful here. Deer tracks are all over the sand bank, and Mr. Summers explained that in the 1950's there were no deer in Central. "The Game Warden decided to bring deer in from North Louisiana to Livingston Parish. The deer found their way to Central all by themselves!"
Finally, we reached our destination. The southernmost point of Central, the confluence of the Amite and Comite Rivers. Above us traffic roared by on the Florida Boulevard Bridge, below us several fishermen cast lazy hooks into the river while enjoying the sun and breeze. "It used to be that you could bring a boat up from New Orleans through Bayou Manchac and up the Amite River. That way you didn't have to go all the way to Ponchartrain," Mr. Summers said as we watched the Amite's strong current. A Spanish fort is rumored to have been down here.
Hiking back along yet another trail, I marveled at how easily this gentleman navigated the pitfalls of the path and what endurance he demonstrated. He shared a little about his experience in World War II, which took him to North Africa. He had been transferred to Nashville before he shipped overseas, and his wife managed to meet him there. Then he found out he had to be ready in 30 minutes to ship out again. He asked his First Sergeant where they were headed, and found out it was Memphis. He asked for leave to travel there with his wife. The Sergeant said he couldn't grant him leave, but wouldn't report him if he just caught a bus with his wife. "If anyone asks you, tell them to call me!" he said. Mr. and Mrs. Summers reached Memphis on a cold, snowy winter's night. The Red Cross directed them to a boarding house, but they caught the wrong bus! By the time they'd reached the boarding house, it was after midnight and the landlady didn't want to let them in. She finally agreed, and shared with them later after Mrs. Summers' mother came to visit that she initially didn't want to rent to them because she thought they'd run away and weren't married!
For a man who went through World War II and still mows his own lawn and clears his own land, this hike was a cakewalk. "The secret to a long life is to STAY BUSY," he shared with that gentle smile. We reached the path to the Indian Mound, after 2 hours of hiking up hill and down dale. "Now, you want to try this trail?" Mr. Summers asked with a twinkle.
Many thanks to Leo Summers for his graciousness. He is a true Southern gentleman. Many thanks also to Vicki Carney for arranging this fascinating trip into history and for caring so much about our community. Look for the Central Historical Society's column "A Walk into the Past" to appear in upcoming editions of CentralSpeaks.com.