School
CHS PTO Awards $500 Scholarships to Four Outstanding Central High Seniors
By
|
Submitted by CHS PTO Secretary DeeDee Dupree; Photo by Expressions Photography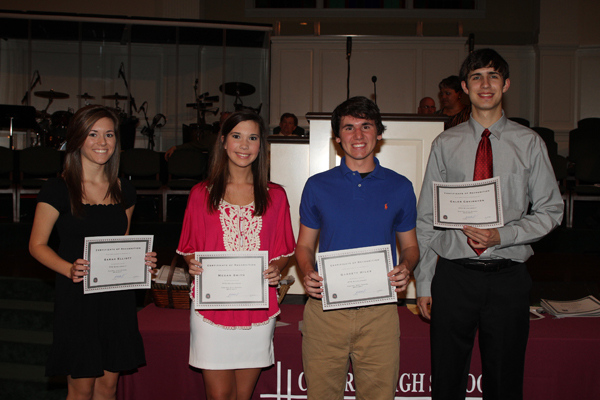 Each year the CHS PTO awards four $500 scholarships to qualifying seniors. This is just one of the many things the PTO does for Central High School. Applicants must graduate with a minimum cumulative 3.00 grade point average and a 23 ACT score. Each have committed to enrolling in a post-secondary institution to further their education. They must not have had any disciplinary action taken against them in their Senior year and must have strong community involvement.
The Seniors chosen as our recipients, are not only gifted intellectually, but have generously donated their time to the Central Community. We know that these young men and women will be outstanding representatives of CHS at the University of their choice.
We congratulate our winners, pictured above: Sarah Elliott, Megan Smith, Garrett Miles, and Caleb Covington.
Judges: Margaret Chair, DeeDee Creighton Dupree and Roxanne Atkinson
We are proud of all the Seniors graduating in May and wish them much success in their bright futures.
WHAT IS THE CHS PTO?
Central High Schools PTO serves as the primary communicative link between the administration, staff, and teachers of Central High School, and the parents and/or guardians of its students. Headed by President, Kandi Jones, our goal is to promote the interchange of ideas, information, and other matters of mutual educational interest for students among the parents and the administration of the school. The CHS PTO serves as a resource for assistance to various school programs, including the areas of finances and volunteer help.
Each year the PTO coordinates and supports many activities that benefit the students, teachers, parents and the community. A great way to get involved at CHS is to volunteer through the PTO. Please feel free to call or
e-mail us throughout the school year. www.chspto.org
We ask that you eagerly support the CHS PTO as a member and in volunteering your time. Remember that 100% of your donation goes to support all Central High School students.
Here is a sample of what your PTO dollars support;
· Scholarships for graduating seniors
· Motivational speakers
· Parent Programs
· Educational equipment to enhance classroom instruction.
· Volunteer Program