Community
Several Central Residents Take Part in 2011 Fava Bean Awards
By
|
Submitted by Kirk Rispone
Fava Bean Awards Highlight 21st Anniversary "What's Good In Baton Rouge" Spring Luncheon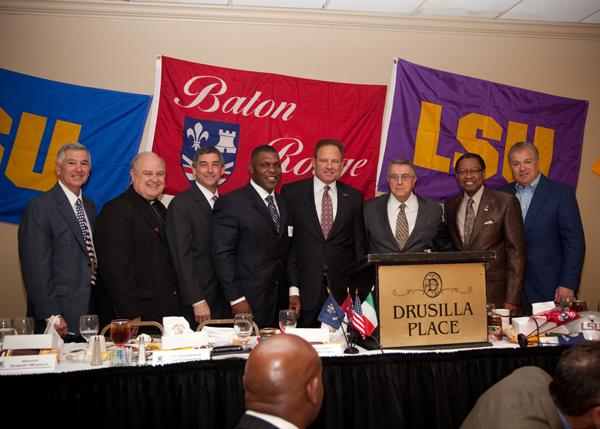 Baton Rouge, LA – Parkview Head Football Coach Kenny Guillot and Golden Deeds Award winner, Gary Mockler received Gold Fava Beans at the 21st Annual "What's Good in Baton Rouge" Spring Luncheon.
The Gold Fava Beans are given to deserving men who have made "exceptional contributions to Baton Rouge pride." Guillot received his bean for leading the Parkview Baptist Eagles to the Louisiana 3A Football State Championship. Mockler, president of Mockler Beverage Budweiser, was honored for his many civic contributions, including earning the 2010 Golden Deed Award presented by the Inter-Civic Council and The Advocate.
The awards were given at the invitation-only luncheon held each year near the Feast of St. Joseph and the first day of spring. Sammy Rispone, Master of Ceremonies, said the event brings together community businessmen, elected officials, governmental officers and academic and law enforcement leaders to honor the good things about Baton Rouge, especially the LSU and Southern football programs. It also recognizes outstanding individual accomplishments in many other walks of life, awarding unique "Fava Bean Awards" to deserving men of the area.
This year's luncheon again welcomed LSU Head Coach Les Miles and Southern University Head Coach Stump Mitchell as guest speakers. They were joined at the speaker's table by Lt. Gov. Jay Dardenne, Mayor Kip Holden, Bishop Alfred Muench, and Sheriff Sid Gautreaux. Cajun-humorist Murray Conque, billed as Coach Miles' and Coach Mitchell's "Ambassador of Wit and Goodwill" also spoke at this year's event. Sammy Rispone and Eddie Rispone served as Masters of Ceremonies. Kirk Rispone is the event coordinator.
Ray Jones, a former Southern University and professional defensive back, was the featured guest of the event. Jones while at Southern was named to the All-SWAC team four (4) consecutive years. After his NFL career, he spent several years coaching various sports at the high school and college level for Capital, Broadmoor, and Southern. He has served on many committees within the community of Metro Baton Rouge such as: Past Chairman of the Education Committee for the 100 Black Men, School Board Drug Team, Shiloh Baptist Church Education Committee and Foundation Board. Ray was awarded the Silver Bean, for outstanding and distinguished accomplishments.
Other Silver Bean awards for were presented to:
Mayor Kip Holden, named as the LSU Alumnus of the Year.
Advocate Columnist Joe Macaluso, who received the Buddy "D" Media Award.
Les Miles, in recognition of the Cotton Bowl victory over Texas A&M.
Jerry Stovall, former LSU All-American and Head Coach, who was inducted into the College Football Hall of Fame.
LSU coach Frank Wilson, named by rivals.com as the National Recruiter of the Year.
Stainless Steel Bean awards for were presented to:
Henry Baptiste, for 35 years the voice of Southern University radio, for his longevity, endurance and toughness.
Wayne Leader, an LSU super fan, who had not missed an LSU game, home or away, for 35 years.
Tommy Moffitt, LSU Strength and Conditioning Coach, who while serving in that position for 10 years, helped lead LSU to 2 BCS National Championships.
In recognition "of hard luck, with wishes for better", Black Fava Beans were presented to Outdoor Sports TV personality Don Dubuc and NSU Coach Bradley Dale Peveto. Dubuc was awarded the bean for being the "Paradise Louisiana" Mediator, according to Rispone. The light-hearted award was based on the stories of Dubuc's skills in managing the battles between Paradise Louisiana hosts Gary Rispone and Joe Macaluso, while filming the cable show. Peveto received the award for having to play LSU in the coming season, in Tiger Stadium, at night.
Unpainted Bean awards, "signifying new beginnings with great expectations", were presented to new LSU Offensive Coordinator Steve Kragthorpe, and Coach Aaron Vice, recently named the Redemptorist High School Head Football Coach.
Also in attendance at the event were former LSU and Southern college and NFL Players, including George Bevan, Bob Brunet, Billy Cannon, Art Cantrelle, Ken Ellis, Ronnie Estay, Percy Franklin, Hokie Gajan, Sammy Grezaffi, Jack Jaubert, Greg Lafleur, Ruffin Rodrigue, "Pepper" Rutland, Jerry Stovall, and Jimmy Taylor
Many NCAA and NFL Coaches were in attendance, including Roger Cador, Gerald Carr, Paul Dietzel, O'Neill Gilbert, Steve Kragthorpe, Paul Lonserry, Mike Lucas, Paul Manieri, Tommy Moffitt, Dr. Sam Nader, Greg Strinfellow, Jerry Stovall, Otis Washington, and Frank Wilson.
Football greats Jerry Stovall, Jimmy Taylor, Billy Cannon, Ken Ellis, Kevin Faulk, Roy "Moonie" Winston, Billy Cannon, Eddie Fuller, Jimmy Field, Johnny Robinson, Bert Jones, Quincy Richard, Glen Dorsey, Charles Alexander, Jr, Tommy Casanova, and Tommy Hodson, among others, have been honored during the luncheons.
The Luncheon is planned and awards are determined by the Steering Committee. Members include Josie Boudreaux and Lauren Rispone, both Assistants to the Event Coordinator; Fabian Blache, Kevin Brian, Louis DeJohn, Joe Dileo, Jay Dykes, Rose Marie Fife, Paul Gosserand, Joe Macaluso, Dennis McCain, Ken Nolan, Eddie Rispone, Frankie Rispone, Gary Rispone, Jimmy Rispone, Rodi Rispone, Sammy Rispone, Jimmy Zito, and Brad Zito.
Baton Rouge Diocese Bishop Robert Muench gave the invocation for this year's luncheon. The benediction was by Southern University and NFL star Pastor Ken Ellis. Ellis is the chaplain of the LSU football team.