Gov't
City Services Bids Opened
By
|
By Dave Freneaux
Four companies submitted bids Wednesday for Central's City Services Contract. While the actual dollar amount of the bids were revealed, the evaluation process includes many criteria, with the dollar amount making up 22% of the final scoring. The low bid was placed by Institute for Building Technology & Safety at an average yearly amount of $3,237,680. The average annual bids of the other three companies were CSRS dba Central Municipal Services at $3,600,000, Severn Trent at $3,740,714 and CH2M Hill at $3,779,655. Based on the preliminary figures discussed at Tuesday's City Council budget workshop, it appears that Central's budget will, in any case be sufficient to cover the cost of City Services and operate with a surplus for the coming year.
The "Option 2" bid structure provided for one administering contractor and smaller contracts for roadway maintenance, grass cutting and drainage maintenance. Since there were no bids for drainage and roadway maintenance, Option 2 could not be considered. Central's City Services Contract will be provided by a single contractor. While the preliminary bid information is known, several factors remain to be resolved. One bidder, Central Municipal Services, has disclosed several potential conflicts of interest which will be discussed by the committee in a meeting tonight, Thursday, at 8:30 PM at City Hall. Additionally, all bids must be evaluated to determine whether they are responsive to the bid request. Barring irregularities, the evaluation process will proceed with all four bidders.
Next Wednesday and Thursday at 5 PM at City Hall the nine member Selection Committee will meet to do its ranking of the bidders, considering all factors to be addressed in the Request for Qualifications and Proposals. Financial stability, insurability, experience, resources and equipment, and other identified areas make up 78% of the evaluation. Each of the bidders submitted a binder of information in support of their ability to effectively meet the demands of the contract. On May 16th & 17th at 5 PM at City Hall the Selection Committee will interview selected bidders and a final recommendation will be made to the Mayor. On May 19th, at the City Council meeting moved from May 24th, the Mayor is expected to inform the City Council as to which company he intends to award the contract, and request that the City Council budget sufficient monies to pay for the provision of Central's City Services for 2010/2011.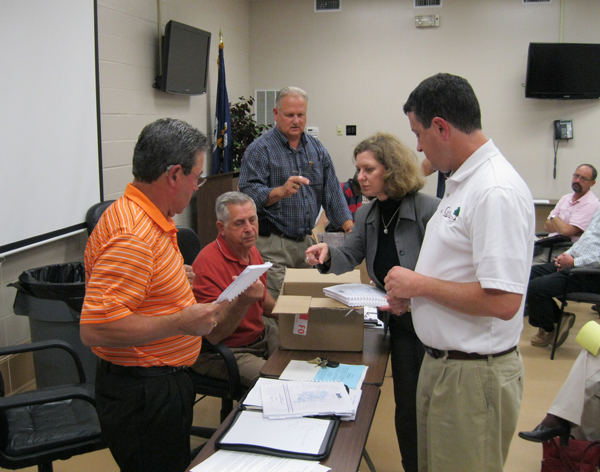 Above: City Services Selection Committee Members, City Attorney Sherri Morris, and David Barrow at the bid opening