Community
Mr. Graydon Walker – Years of Experience & Wisdom
By
|
By Mia Freneaux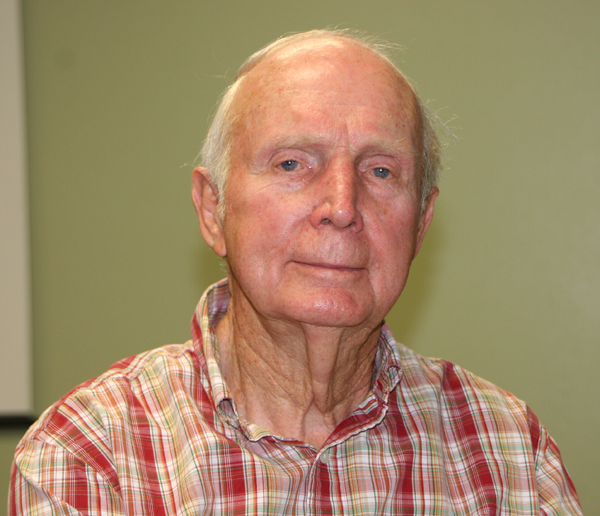 As anyone who meets Mr. Graydon Walker knows, one's first impression upon meeting him is that he exudes a calm wisdom. The second impression is one of a lost era, as his courtly manners bring back memories of a more considerate and slower paced life. Mr. Walker, who moved here at a young age, has memories of his first home in Central on Peairs Lane (the present Joor Road) near Mr. D.D. Smith's store, which used to be located on the corner of Greenwell Springs Road. His mother was a first grade teacher in the old wood framed schoolhouse. That school held 11 grades but had no cafeteria. Some still remember going to Edwards' Store to get lunches, sitting at a table on the long front porch. Favorite lunch: RC Cola and a moon pie! Edwards' had a pitcher pump at the store that had to be primed before one could get a drink. Mr. Graydon remembers playing basketball in the old gym (now the girls' gym at Central Middle). There were 2 pot belly stoves in the gym used to heat the whole building. It would get cold in the gym, and basketball players could look forward to a cold shower after a game since there was no hot water! "It's the way life was then, we didn't know any differently," Mr. Graydon said with his gentle smile.
Mr. Graydon's father helped to build Harding Airfield. During the Depression, times were hard, and he had to walk from Central. Anyone driving back then would give you a lift. Almost everyone knew you. Mr. Graydon remembers going to the grocery with his mother. Often they'd have to put items back because they didn't have enough money to pay for everything. Yet, when hoboes from the rail road tracks came knocking at the back door, Mrs. Walker always fed them. Nowadays people don't appreciate that they live in the Land of Plenty. Mrs. Walker was a great influence on the young Graydon, influencing even his choice of career. "She loved kids," he shared, "There were many lives she affected as a teacher. She did the same with her family. She taught us the value of education and what to value in life."
Mr. Graydon graduated in 1946. Many of Central's students had joined the military or dropped out to tend to family farms, so the graduating class of 1946 had 22 girls and only 3 boys! He and Miss Iris Shaffett had dated throughout high school. They went together to LSU, and together majored in mathematics and science. Miss Iris graduated a year ahead of Mr. Graydon, but her father informed him "No one is marrying my daughter till he has a job!" so they had to wait till Mr. Graydon graduated to get married. They didn't waste time, though, they were married the day after he received his diploma! They were the second couple to be married in the then "new" Zoar Sanctuary, now the education building.
Mr. Graydon started teaching under Mr. Norman Day, the principal of Istrouma Junior High School. The Korean War had just begun, and Mr. Graydon was drafted. He received a deferral, however, due to his teaching in the mathematics field. The day that first year of school let out, he was told to report to Fort Sam Houston for his induction. He received his basic training at Fort Ord in California. The United States had been suffering heavy losses in Korea at the time, so he was flown to Korea immediately after basic training. He hit Korea's shores as a Private First Class, by the time he was finished with the military, he was a Staff Sergeant. He feels himself fortunate in that he was trained to be in the infantry, but when they noticed his education in mathematics he was put with the artillery. He was flown to Pusan, Korea, to train up to the front. He spent 2 winters over there, saying the soldiers counted time by the winters because they were so cold. He spent a great deal of time above the 38th parallel above Seoul. "We would take a hill at night, and back off in the daytime," Mr. Graydon remembers, "It was a crazy, crazy, war." Mr. Graydon was reluctant to share any more memories of that time, though it is hoped he can be persuaded later to do so. He shared he would love to return to Korea. He remembers when he went to Disney World, he was sitting at a show next to a couple with a young child. He asked where they were from. They said, "Puson, Korea." They asked if he had been in the war, and when he answered in the affirmative, they stood up and shook his hand and thanked him for what he had done for their country. They insisted on sharing their food with him. Mr. Graydon's eyes grew moist at the memory. "The Lord has blessed Old Graydon in so many ways, so many experiences," he said, "Every one has been a good one."
Upon his discharge from the military, Mr. Graydon returned to Istrouma Junior High School. The area was growing so quickly that the school could no longer hold all the students, so they built Prescott Junior High School. Norman Day moved to Prescott when they split Istrouma's faculty between the two, and he brought Mr. Graydon and Miss Iris with him. The Director of Instruction for East Baton Rouge Parish chose a child to follow throughout the day, and selected one of Mr. Graydon's students. He was so impressed with the way Mr. Graydon handled his class that he called him the next day and asked him to move to the School Board Office and oversee the Mathematics Program throughout the parish. So in 1957, at the age of 25, he began work at the School Board Office. He didn't realize at that time that he would shortly be making history. He gradually moved up to Associate Superintendant of East Baton Rouge Parish. That was when the Desegregation Suit hit the school system. Mr. Graydon was made the "point person" to meet with Judge Parker. "No one can ever tell you what I went through at that time," Mr. Graydon said, "By doing what he did, Judge Parker destroyed the education system in Baton Rouge. We were trying to integrate and maintain the quality of education that we had before. Education was not the issue with the Department of Justice, however, just numbers. At the time we had a 65/35 ratio with 60,000 children in the system. The Department of Justice wouldn't listen to us and the whites continued to leave. " The Justice Department representative out of Washington refused to meet with Mr. Graydon unless attorneys for the School Board and the Department of Justice were present. Mr. Graydon was written up in all the official documents as "the appropriate staff member", never by name. During this difficult time, Mr. Graydon said there were quite a few times when Miss Iris was uneasy, but he never really had a concern for his safety.
After 38 years in the school system, Mr. Graydon retired. He thought he was done with work, but one year later he received a call from the East Feliciana Parish School Board. They asked him to come and superintend their system. He refused. 4 phone calls later, he relented, and so began one of the best times of his life. The E. Feliciana School System could not operate with their budget deficits. One of the first things Mr. Graydon did was cut everyone's salary so they could pay their bills. "I was not very popular at first," he smiled, "but I promised every one of them that before I left I would restore every penny we'd cut, and we did! They were good people, and I had a great time. I would probably still be there, but Tom Ed McHugh got elected Mayor President of Baton Rouge." Mr. Graydon had been Tom Ed's boss when he worked as Director of Transportation of EBRP. The newly elected mayor called Mr. Graydon and asked him to be "Interim Chief Administrative Officer." Interim, of course, turned into full time. Tom Ed would handle the political aspects of the office, Mr. Graydon the administrative. "He was truly a great guy to work with," Mr. Graydon remembers. The "interim" position ended up lasting 10 years. At that point, Central was first exploring having its own schools. Mr. Graydon decided to "retire" again, this time with no intention of going back to work! Famous last words. Zoar Baptist Church called and asked him to be their administrator. As Mr. Graydon put it, "I couldn't fight the Lord." Then Central Mayor Mac Watts approached him and asked if he'd serve on Planning and Zoning (he'd worked on Baton Rouge's for over 15 years). So Mr. Graydon took up the reins again.
When asked how Central has changed through the years, Mr. Graydon considered the question carefully. "Central is not the same place I grew up in," he said thoughtfully, "People don't react to each other like they used to. They're not compassionate, they don't think about people's feelings like they should. I don't know of any place as good to bring up children and live as here. It's a great community and school system. It's unbelievable how many smart kids we have here, the number of Advanced Placement courses they take and their grade point averages. They are our future! Hopefully they will stay here and make Louisiana better for the future. If they don't do it, no one else will." Asked what suggestions he could offer Central, he responded, "Do something for someone else, not yourself. Make your community a better community because of what you've contributed. Do something anonymously, that way the recipient has to be nice to everyone because they don't know who gave." Mr. Graydon offered this great advice, "Let's unite our community, not divide it up. Central, pull together! Have the attitude 'What can we do for others'!" Coming from someone with so many life experiences, words of wisdom, indeed.