Community
Friends of Scouting Raising Funds for Central Area Boy Scouts
By
|
Submitted by Brockwell Bone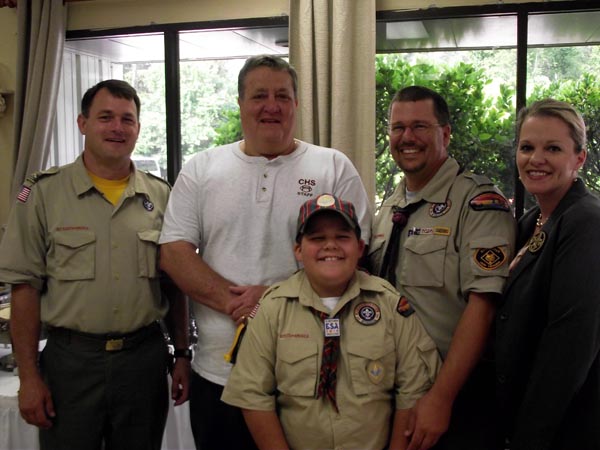 L to R: Mark Terrio, Cubmaster, Pack 13; Spencer Smith; Eric Williams, Tunica District Membership Chair; Rhonda Smith, Tunica District Director; Matthew Williams, Cub Scout.
A group of community leaders were invited to Kristenwood last Friday for the 2011 Friends of Scouting Breakfast. Brockwell Bone, the 2011 Chairman for the Friends of Scouting program, reports that the turnout was ideal. "The mission of Friends of Scouting is to fund the Boy Scout program for boys and young men in the City of Central," reports Bone. Tunica District Executives attended the breakfast along with local Scout leaders from Blackwater Methodist's Cub Scout Pack, and they shared their stories of skill and leadership development experiences in the Scouting program.
The 2011 goal is $10,000. This financial goal is divided amongst Team Leaders, of which 3 were recruited at the breakfast. The first thousand dollars was funded by other participants from this breakfast event. Each Team Leader commits to raising $1,000 each using a team of five people. "This reduces the personal amount of commitment from $1,000 to $200, if each team has 5 people. Then the Team Members can find 10 people to donate $20 and their portion is funded," Brockwell explained.
The Friends of Scouting – City of Central 2011 campaign currently needs seven more Team Leaders and Team Members. Tax-deductible financial contributions payable to "Boy Scouts of America" can be dropped off at Bone Marketing in the new Central Office Park at 12628 Hooper Road, a half mile east of Joor. Interested persons can also follow the campaign by searching for "Friends of Scouting – City of Central" on Facebook. Thank you to Kristenwood for supplying the breakfast!