Community
Central Volunteer Honored by Girl Scouts Louisiana East
By
|
Submitted by Cathy Pottschmidt
A garden party theme set the stage for Girl Scouts Louisiana East's annual Adult Recognitions event held in New Orleans' City Park on May 21, honoring the dedication and commitment of its adult volunteers, as well as the contributions made by religious leaders and school principals. Council level adult recognitions include the Appreciation Pin, Honor Pin, President's Award, Thanks Badge II, Years of Service Pin, Outstanding Principal Award, and Outstanding Religious Leader Award. Central resident and Girl Scout volunteer Becky LeDuff was the recipient of the Appreciation Pin which recognizes a volunteer's outstanding service beyond the expectations of the position held that benefits at least one Girl Scout service unit.
LeDuff is affectionately known as the "Archery Lady" to many volunteers and girls in southeast Louisiana because of her passion for the sport, as well as her knowledge and experience in facilitating this adult enrichment training. For several years she has trained volunteers to facilitate the archery program, thus allowing more girls from different areas of the council to experience the sport. As the leader of an active multi-level troop, she inspired her Girl Scouts to upgrade the archery field at Camp Marydale as their community project requirement to earn the Girl Scout Bronze Award, creating a facility that is used and enjoyed all year.
The local council, Girl Scouts Louisiana East, serves girls 5 to 17 in the parishes of Ascension, Assumption, East Baton Rouge, East Feliciana, Iberville, Jefferson, Lafourche, Livingston, Orleans, Plaquemines, Pointe Coupee, St. Bernard, St. Charles, St. Helena, St. James, St. John, St. Mary, St. Tammany, Tangipahoa, Terrebonne, Washington, West Baton Rouge, and West Feliciana. For more information about Girl Scouts or adult volunteer opportunities, call the council office in Baton Rouge at 225-927-8946, or visit its website at www.gsle.org.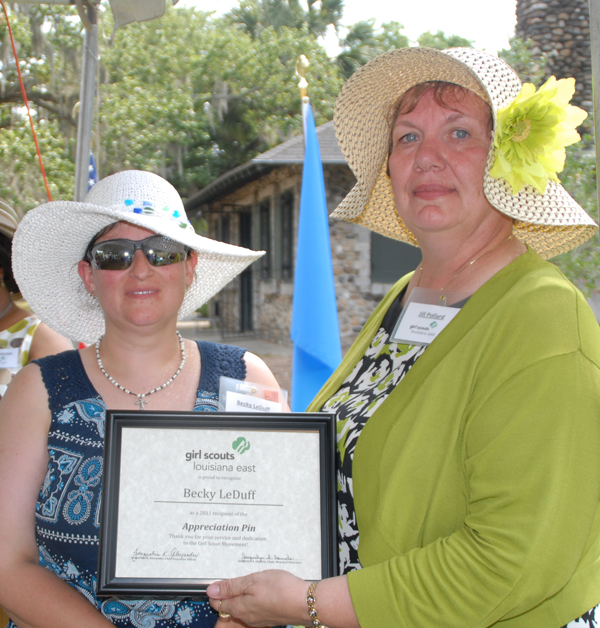 Photo: Becky LeDuff – Central Girl Scout volunteer, Becky LeDuff, left, accepts the Girl Scout Appreciation Pin from Jill Pollard at the Adult Recognitions garden party held recently at New Orleans' City Park where Girl Scouts Louisiana East council celebrated the dedication and commitment of its adult volunteers to Girl Scouting in southeast Louisiana.