Church
Father Mike Moroney- Reflections of 40 Years of Service
By
|
By Vicki Whittington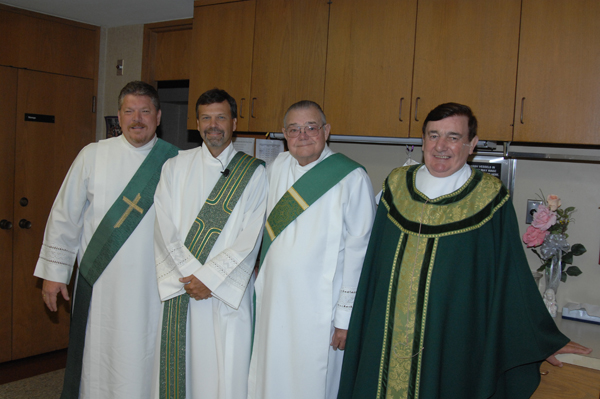 Where does one begin to reflect on the memories, challenges and blessings accumulated over a forty-year period? And, where did the 40 years go so quickly?
For Fr. Mike Moroney of St. Alphonsus Liguori Catholic Church, he can summarize his pastoral journey quite quickly. The blessings he gained from his spiritual travels encompassed working with all types of people, young, old, men, women, friends, family, and parishioners. Upon revisiting and reconnecting with many of these folks, he is quick to say how very special it is to hear some of them credit a particular success story to some words of wisdom he shared with them or how a counseling session or prayerful discernment with them made a positive impact on their lives. Fr. Mike truly believes the greatest gift he received over this period of time is the unending generosity of people willing to share their time, talent and financial resources in their church life.
When Fr. Mike was only 21 years of age, he entered seminary knowing he probably would not serve in his beloved Ireland. A group of bishops from the United States, including Fr. Stanley Ott who was then the chancellor of the Diocese, traveled there to recruit young men to relocate to the United States, where the shortage of priests was already anticipated. Bishop Tracy, the first for the Diocese of Baton Rouge, impressed Fr. Mike with his excitement and enthusiasm relative to the Vatican Council. It was his contagious spirit of excitement that hooked Fr. Mike and played a deciding factor in his coming to Louisiana. The fact that Louisiana was a constant reminder of home in that the folks were friendly, enjoyed eating, and rivaled all when it came to celebrations was also a big help in his adjustment to his new home. Being so far away from his immediate family and not having the opportunity to spend special occasions and holidays with them has not dampened his spirits because he has been blessed with many friends who are like family to him, so he has never felt that he was missing that special family bond.
Being ordained in the early life of Vatican II, Fr. Mike has seen many lay ministries developed that touched many lives in all walks of life. It's no secret, for example, that Fr. Mike is very comfortable around our young folks. While at St. Charles during the late 1970's, he was also very much involved at Redemptorist High School. He was campus co-chaplain for 12 years, guidance counselor, and was part of the team that implemented the retreat program for students that is still a viable part of the school today. Students and faculty return from this event with a new fervor for God, family, and life. When asked what was so unique about working with these impressionable young men and women his response was: "Young persons, when only five miles from home experience differences in various aspects of their lives. Things change. It is renewing and refreshing for kids to have positive experiences. The rewards are the potential to make a difference in their lives."
Fr. Mike did not personally think he'd made differences in the lives of young folks, until years after sharing insight, wisdom and every day conversations with them, they returned to tell him of the positive impact he'd had on them. He truly believes that small things can make a big difference in their lives, and we should never underestimate the time spent with them nor the effect and power our presence has on them. With new and unique challenges in our world today, one small comment, a private conversation, or just a gentle gesture may make a positive difference in the life of someone who otherwise would stray from the straight and narrow path.
Working with those of other faith traditions is nothing new for Fr. Mike. For over 30 years, he has been the Ecumenical Office for the Diocese of Baton Rouge. He serves on the Louisiana Interchurch Conference which is a statewide group of persons from many faith traditions comprised of bishops or their respective delegates. Fr. Mike has also been privileged to lead and participate in the prayer service for the invocation of Louisiana governors, representatives, and senators at St. Joseph's Cathedral.
Fr. Mike is particularly proud of the efforts surrounding our local Central City Thanksgiving Service. Implemented three years ago, the first service was held here at St. Alphonsus. Not only is it one of the most well attended services Fr. Mike has witnessed, but the music, scripture, and message delivered provide a "united effort" on the part of 16 local churches involved. Family life, values that are important to all of us no matter what faith we practice, and respect for life are common ideals we all treasure. When we embrace these things cherished by many, faith tradition divisions vanish and we all become one body in Christ.
Another aspect of the ecumenical efforts here in Central is the Central Pastor's Association. This group of clergymen meets on a monthly basis. The meetings are open to all churches in Central and surrounding areas. There are several faith traditions represented and the bottom line is friendships are formed, differences are understood, and similarities are appreciated. The annual Ecumenical Prayer Service is another example of building the community on multi-faceted levels. Attendance at this event ties our entire Central community together, all religions, all socio-economic groups, all God's people. While these rewards are wonderful, Fr. Mike believes the best is realizing the true richness in all faith traditions, no matter how similar or different from one's own. His sincere prayer is that all would be one at the table of the Lord.
Fr. Mike's journey has taken him to various settings in South Louisiana. He began his spiritual journey in New Roads at St. Mary's Parish. At St. Isidore, which was Fr. Mike's first pastoral assignment, he spent 9 ½ wonderful years in a parish which was a delight with its "hands on" way of doing so many things. From here, he moved to Our Lady of Mercy Parish where he had many great memories and worked with many great people. His next trek took him to St. Charles here in Baton Rouge where he served as Assistant Pastor. Following his service there, he moved to St. Thomas More. Upon being re-assigned to St. Alphonsus, Fr. Mike says it was like "coming back home
Since coming to St. Alphonsus, Fr. Mike has quickly put his finger on the pulse of what makes his parish unique. St. Alphonsus has the largest congregation in all 32 churches in Central. Gifts and talent abound in this Catholic family. There is never a lack of participation in festivals, auctions, ministries and liturgies. The Church is part of a growing community that is exciting, and as the community flourishes, so does St. Alphonsus. Fr. Mike praises the founders of St. Alphonsus for their vision in establishing a Catholic presence in this community. He is quite certain they are smiling upon his church from up above and is grateful they planted the seeds that gave life to his beloved parish that is a viable presence in all our lives.
One of Fr. Mike's favorite scripture passages sums it all up: "But ye are a chosen generation, a royal priesthood, a holy nation, a peculiar people, that ye should show forth the praises of him who hath called you out of darkness into his marvelous light: Which in time past were not a people, but are now the people of God; which had not obtained mercy, but now have obtained mercy."(1 Peter 2:9-10).
A final thought Fr. Mike would like to express is his sincere sense of thankfulness and deep gratitude to all who have journeyed with him over the last forty years up to this moment– friends, family, staff, priests, deacons and parishioners. Thanks for the memories!
God bless you, Fr. Mike. Here's to 40 more wonderful years.
St. Alphonsus Catholic Church would like to extend an invitation to the community to join with them as they celebrate Father Mike Moroney's 40th anniversary in the priesthood. A mass will be held at 3:00 Sunday, June 12, complete with choir accompanied by brass and many priests, the Bishop, and area pastors. A reception is to follow immediately.