Business
The Jambalaya Shoppe Opens Today in Central
By
|
By Mia Freneaux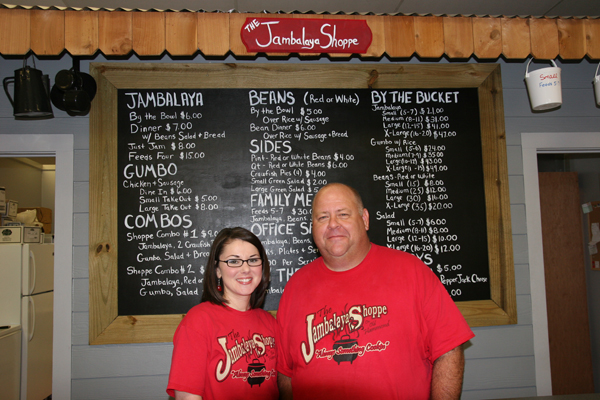 The Jambalaya Shoppe is opening its newest location today in Central! Chuck and Cynthia Lavigne have recently bought the Jambalaya House from Dwyne Guitreau. Chuck and Cynthia are owners of a Jambalaya Shoppe franchise, and already run a very successful one on Old Hammond Highway. "We were looking for a great location in a great community," said Cynthia, "We were encouraged by our patrons from Central to open a branch there, and we found a perfect match!"

The Jambalaya Shoppe is a chain started over 15 years ago by the Fontenot family of Gonzales. Gonzales calls itself the "Jambalaya Capitol of the World," a claim hard to argue, and the Fontenots' had plenty of experience cooking it. Their jambalaya recipe is a family tradition handed down for generations, as is their gumbo. Every Jambalaya Shoppe uses these time-tested recipes. "The Fontenots believe in Mom and Pop business," revealed Cynthia, "They encourage all their franchise owners to add their own personal touches." An example of this is Chuck's Daily Specials which he runs at his Old Hammond location and plans to offer soon to Central. Pork Roast, Stuffed Bell Peppers and Pastalaya, his own recipes, are offered on certain days of the week. Chuck, whose passion is cooking, selects menu items and recipes himself. He has had 5 year's of experience running the restaurant, and was cooking for large crowds long before that. "He's the guy everyone would call to cook when they went to their camps," Cynthia said with a smile.

Recipes are not the only tradition at The Jambalaya Shoppe. Cynthia enthused, "We feature downhome Louisiana traditional home-cooked meals. It's not typical fast food, though it is fast service and inexpensive. We prepare everything fresh twice a day, and that's what sets us apart. It's something different. We call ourselves the 'Home of the Hearty Helpings.' You can buy lunch, and take the leftovers home for dinner." The Jambalaya Shoppe caters large gatherings of all kinds, from business conferences to weddings. Company picnics, bank meetings, church gatherings, fairs, they are able to handle hundreds of servings at a time. They require 24 hour notice to prepare large orders like these, and supply salad, rolls, and all paper products to go with it. They will deliver orders over $100.00.

A perennial favorite is the "Shoppe Combo" which offers a taste of jambalaya, gumbo, and red or white beans and rice. Their "Office Special" serves a minimum of 10 people, and comes complete with everything including paper products. They offer all of their menu items by the bucket, from small to extra large, all the way up to by the cooler. Their menu also features Jambalaya or Sausage Po-boys and chocolate cheesecake and pecan pie for "a bit ofsweet at the end," as Cynthia puts it.

The Jambalaya Shoppe has built up its clientele by insisting on consistent quality and customer service. "Our chefs get 3 weeks to one month of training before I feel comfortable leaving them in charge," Chuck states. Delicious smells emanating from the kitchen attested to his standards. "We are all about customer service. We make it personal. We know all our customers' names and preferences. We can customize orders as well."

Chuck and Cynthia are very pleased with their new home. "Central has the same small town feeling as Gonzales, where we were raised," they shared. Their manager, Charles "Bear" Fontenot, is a Central resident, and was with the Old Hammond Jambalaya Shoppe before the Lavignes purchased it. "He's great, so dependable, he really knows what it takes to keep the customer happy." Cynthia stated. "I'm going to be here every day," promised Chuck. "Our motto is 'Always Something Cooking.' We open officially at 11:00, but will open at whatever time we're here for folks who can't wait!" Their hours are 11:00-8:00.

With thanks to Dwyne Guitreau for all he's done for our community, we offer a warm welcome to Cynthia and Chuck and wish them all success in their latest endeavor.

The Jambalaya Shoppe
14455 Wax Road
261-9449
11:00-8:00 M-F, 11:00-3:00 Sat., and 11:00-2:00 Sun.