Community
Central Youth Form Amite River Preservation Association
By
|
By Mia Freneaux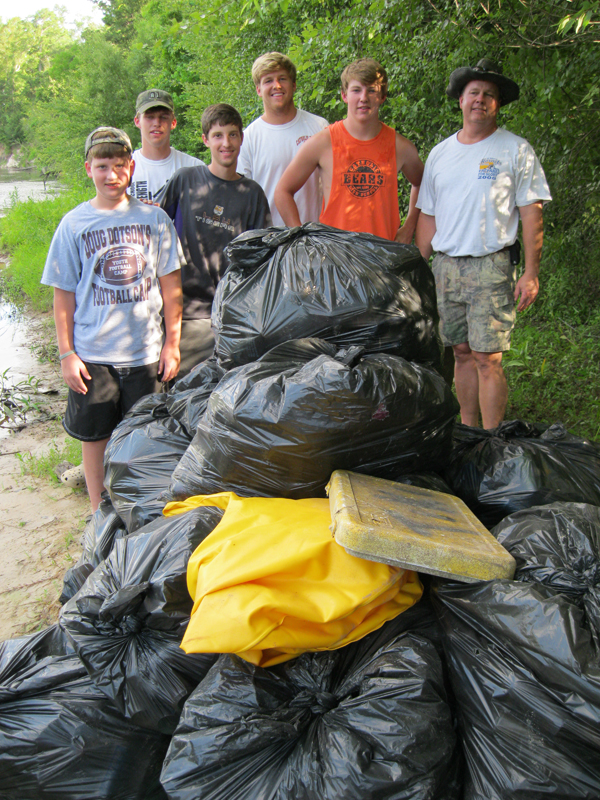 Above: Cole Sevario, Jacob Venable, Cade Sevario, Grant Venable, Matthew Venable, Richard Venable. Not pictured: Drew Sevario and Elizabeth DeLee
The smooth green water glides by like silk, so clear it is easy to see the pebbly river bottom. In the bow, 17 year old Jake points to a turtle sunning on a log; it slides into the water with a "plop." The boat scrapes over a hidden obstacle. "Alligator," says Jake with a grin. "Log," says his dad Richard from the stern. I am not on a shoot for "Swamp People", though the folks I'm with are just as passionate about their water way. I am a mere 15 minutes from my own house, and surrounded by such beauty it could make the cover of National Geographic.
On Memorial Day of this year, Richard Venable, his 3 boys, 2 nephews, and their friends were lounging on the beach on the Amite River. They lease this property for hunting from a Timber Management Company, and Richard basically grew up on it. His son Matt and Matt's cousin Cade were looking with sadness at the trash floating by on their beautiful river. They knew folks had called the DEQ and the Wildlife and Fisheries with complaints, but these 2 boys had a different plan. "What can we do?" they asked themselves, and one of them suggested if they offered to use their boat to pick up the trash, maybe Tiki Tubing on the other side of the river would hire them. "Let's do it!" they all agreed. Grant, Richard's eldest, said, "We were really motivated by our memories of how pretty it was in the past. We figured someone had to pick it up and just do it." And so the Amite River Preservation Association was born.
John Fore, owner of Tiki Tubing, was very excited to have the boys offer to do this and agreed to pay them. They realized, however, that they would need a special low clearance motor to run their boat. Richard helped them get a loan to pay for the $3000.00 engine. They hope to have it paid off with the money they earn from Tiki by the end of summer. The upshot: these boys and their friends are basically cleaning up the river for no personal gain – all summer long.
The guys offered to take me on a ride down their river, and I eagerly agreed. So that's how I came to be sitting in a boat, camera snapping incessantly. "We just cleaned that bank yesterday," Richard says sadly as we pass an area liberally sprinkled with beer cans and water bottles. An empty potato chip bag floats by. All up and down this 3 mile stretch, trash is clearly visible. Tubes abandoned by their renters, a mud covered boom box, the top to an ice chest, and cans, cans, cans. "Mr. Fore offers $5.00 off their next visit to anyone who brings their trash back after tubing. He has crews who regularly canoe down the river to pick it up. We spend every weekend collecting it, and we figure we're only getting about 1/3 of what is dumped in here," shared Richard, "the rest just floats down the Amite."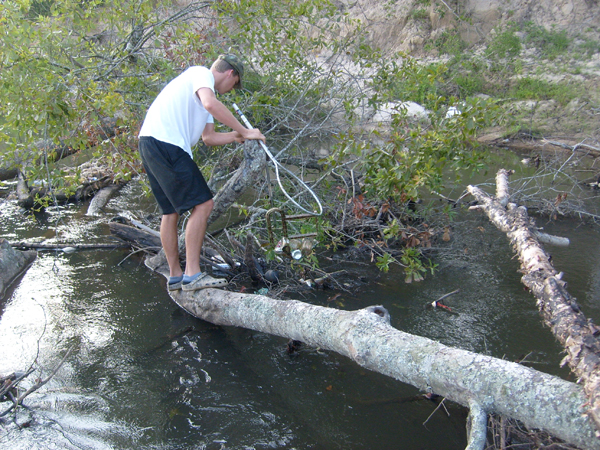 The boys spend Saturdays and Sundays cleaning up after tubers. Richard does not want to send them out unsupervised, as the motor is potentially dangerous, so he goes with them. They travel up and down the river several times, walking the banks, wading, filling bags that the boat ferries back to their landing. That landing, incidentally, was carved out of the bluff by the boys themselves, and leads to the river at an impressive 70 degree or so angle. When I arrived there, the boys were already industriously pegging large pieces of plywood down the ramp to give their 4 wheeler traction as it lowered the boat trailer. The remaining 5 feet or so, the boat is ferried into the shallow water by sheer manpower.
"We see about 4 or 5 snakes each time we go out," Richard said, "We have grabbers and nets, and we have to be very careful when we reach into bushes or under roots." The boat holds about 9 filled 48 gallon bags; Jake shared that Sunday the boat was so full of trash they had to have 2 of the boys walk all the way back to the landing. They've kept a log of each day's activities; it is an impressive tribute to their dedication and vision. "June 5: filled boat, could not put more in. Got about 1 mile downriver. Hailed on us!!… June 11: 270 gallons of trash, 4 hours," and so on. Richard figures they've clocked in over 80 man hours and collected over 270 cubic feet of litter.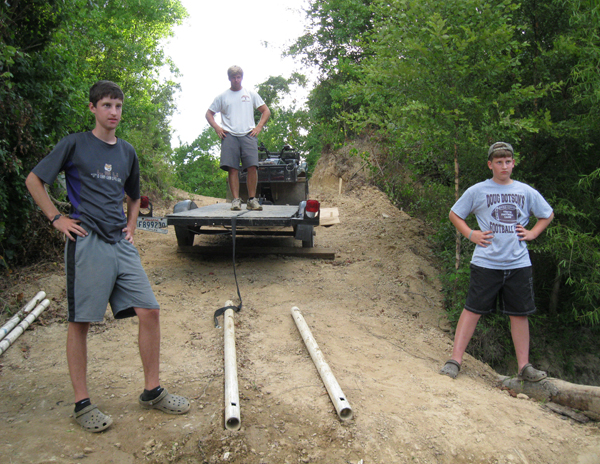 Iris and caladium poke up around the shore as we pass. The trees reach toward their perfect reflections. The sky is a sapphire bowl overhead. We pass tubers, many less on this Monday evening than float by on the weekends, where they average in the thousands. "Look how beautiful this is, and we're trashing it," Richard comments as we pass a fallen tree, its branches tangled with cans and bottles, "If you look up there on the bluff, you'll see hardwood forest – oak and cypress. Down here are natural white sand beaches, equal to any you'd find in Florida. These cliffs are made of clay and sand, like you'd find in Arkansas. There's deer in the woods, catfish in the water. Archaeologists have found traces of Native American settlements along these banks that date back to 3000 b.c. We need to get people aware of what's at stake if we continue to let it go."
The boys and their friends are looking for advice on the best way to tackle the huge task they've set themselves. They need financial help to pay for their gas and trash bags. They need direction on what private groups could help them accomplish their goal. They need manpower. Scout troops, church youth groups, school sports teams, all of these could help with this wonderful idea. "I take the values and lessons I've learned here on the river into Life," said Matt. They envision placing markers along the river that point out its rich history, hoping to pass on their love to visitors, markers that cost money.
My trip almost over, Jake and Richard deposit me on the bank to avoid the bumpy ride back. Cade picks me up on the 4 wheeler, and takes me through the woods on a trail the boys have blazed. "We've built stands, bridges back here," Cade says with quiet pride. When I comment how this is really a guy's idea of paradise, he wholeheartedly agrees. "We count ourselves blessed," he says simply.
This Saturday, while we're still in bed contemplating getting out to mow the lawn, these young men will be out gathering trash all over again. The areas they've cleaned the previous weekend will be once again covered in refuse. Yet they will cheerfully tackle the task, knowing they're doing all they can to keep their river beautiful. Middle school student Cole states it best: "People shouldn't litter!"
If you can help in any way, please contact the guys at amiteriver10@yahoo.com.