Church
Jeremy Dailey: Anointed and Charismatic
By
|
By DeeDee Dupree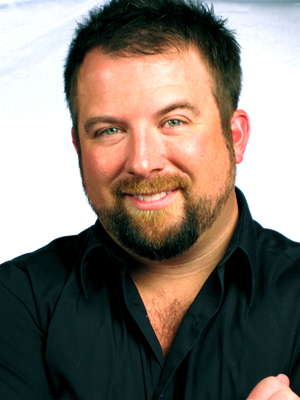 Equally talented as well as endearing, Jeremy Dailey shines and radiates on stage each Sunday at GSBC. He leads the praise and worship, always with a smile and sometimes with a very red face as he belts out songs of praise alongside the GSBC Choir and Orchestra.
He was born (as a twin) in Indianapolis, Indiana in the year 1975. Growing up surrounded by music, he learned to play the drums at the age of nine and knew almost immediately God had a specific plan for his life.
He attended a small Christian college in Texas before coming to Louisiana where he began teaching at a small Christian school. He eventually became Principal and led worship and organized a contemporary Christian band at the parent-church.
The band "Rezzonate", filled with talented musicians, followed God's plan and ministered at many youth events. "It was a special time," Jeremy stated, reflecting on his four years with the band.
After leaving the small church and band, Jeremy found himself selling cars and becoming more and more disenchanted with his current situation. He was visiting different churches, but hadn't found that one he embraced whole-heartedly. These were tumultuous times, but through circumstance and personal hardship, God led him to GSBC. At first, he was reluctant to commit to anything on a permanent basis. He knew the time and commitment that went into that. However, after spending time with the members of GSBC, he could tell this was a group of people he wanted to be associated with. "They were so genuine. Honestly, these people are the real deal." As he spoke of his journey to GSBC, his eyes teared up, but the beaming smile never faltered. "I knew this is where God wanted me to be."
Shortly after hurricane Katrina, Jeremy began playing drums on Sunday mornings. It wasn't long until his heart grew heavier, wanting more and more to be a part of that ministry. He had not realized the enormity and powerful impact the music ministry of GSBC was having on the community. Not long after, he was informed of an opening in the student ministry. He became the student pastor at GSBC and worked in that capacity for two years. God eventually opened the door for him to begin leading worship, where he is now the Worship Pastor.
He states that each day spending time with the staff and members of the church, he is in awe. "I see Jesus through these people in a way that I have never experienced before."
Q & A: What do you want the residents of the Central community to know about you or GSBC?
I would love the community to realize first of all that we were created to worship God and bring him pleasure. Secondly, worship is something you do daily, not just on Sundays. Let God reveal Himself to you. Worship is the one thing that will bring true fulfillment in one's life. I am by no means perfect; I've had my share of personal struggles and adversity. And like everyone, I've made poor decisions that have led to things in my past I'm not proud of, but God sees beyond that. We serve and worship a loving, forgiving God. He is worthy of our praise.
Describe the pastor of GSBC, Dr. Dennis Terry.
He is an awesome, awesome man. He is a great Pastor. I truly enjoy hearing him minister.
You were married in 2008 to Debra, can you tell me a little about her?
(Before answering, a huge smile covered his face. He looked over his shoulder at a picture of his wife on the shelf behind him.)
She defines Beauty, both inside and out. She is best described by Proverbs 31, a virtuous woman. I've been blessed having her in my life.
There is a new addition to your family, isn't there?
My beautiful daughter, Zoe, was born on April 7th. My son, Mason, loves having a baby sister. We are blessed.
Wrapping up the interview, I asked Jeremy if there was anything else he wanted to share with central residents about GSBC, "fellowship of excitement" and he humbly answered, "As a church, as a leader in the church, I encourage everyone to stay focused on what we are here for. Don't look to your neighbor or the faults of others, Look to God, that's what matters. We see things everyday, but sometimes overlook the beauty that is right in front of us. Although singing and attending church is part of worship, it's not the beginning or end of it. Worship is a lifestyle of constantly responding to God's revelation. Be open and receive what God has for you. I love GSBC and I love the Central Community. We are growing and rapidly expanding, but somehow, Central has retained its small town values and community feeling. I just love it."
GSBC has an open door policy. If you, or anyone you know, needs to talk or be ministered too, just call or stop by.
Please join Jeremy and GSBC Sunday, July 3rd for the Worship Service. "Freedom Sunday" will feature:
9:15 am Morning Fellowship (serving donuts and coffee)
10 am Worship Service
12 pm Afternoon Picnic (hamburgers and hotdogs served in the gym)
For more information call: 225-261-2246 or visit: www.gsbc.com