Police/Fire
The Beginnings of the Central Fire Department
By
|
By Mia Freneaux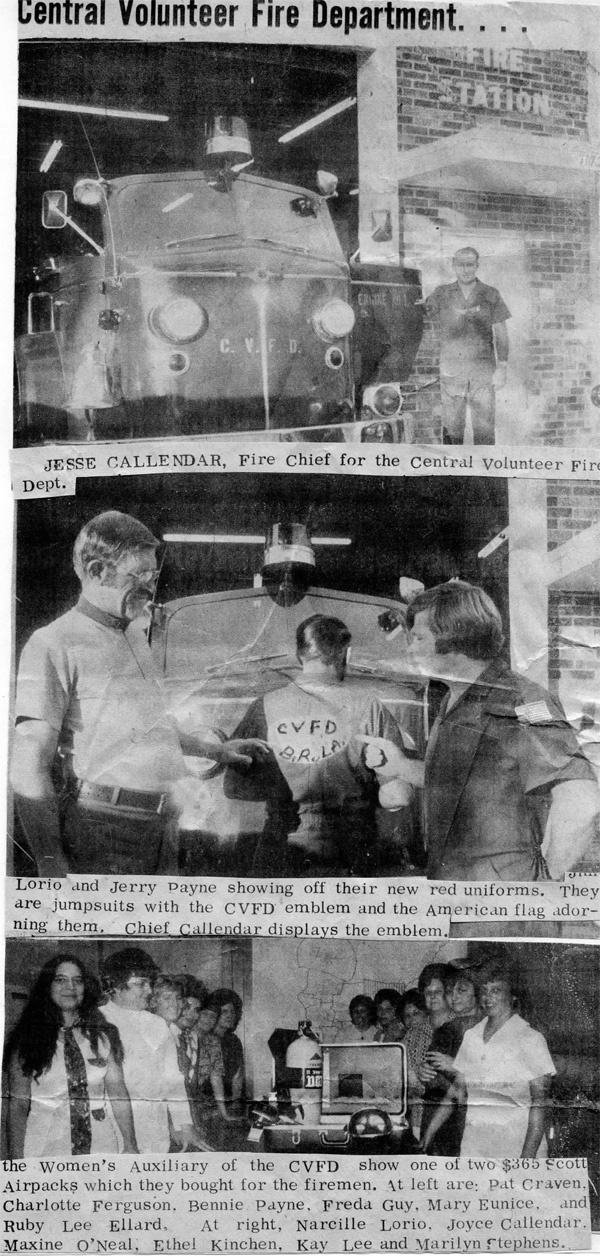 Photos from the August 13, 1973 Observer
A handful of Central residents saw a need. They started with nothing but a dream, and by the time they were finished a whole new organization was created that benefited everyone. Sound familiar? It's not what you think it is, but the motivational spirit is the same.
Back in 1971, the Central area was not covered by any fire department. If there was a house fire or grass fire, folks had to rely on their own garden hoses to keep things at bay until the Baton Rouge Fire Department could or would respond. Seeing a need, a few Central citizens attended a meeting to organize a volunteer fire department that would cover a small portion of the Central area. Hooper Road Volunteer Fire Department had offered to donate an old truck, but the truck would not be available to everyone. Jim Fergerson and Grover Stephens were both struck by the same idea: if this group could organize a very small fire department, why couldn't they get the community leaders involved, and have it for the whole Central community? They approached John Parker, then Chief Training Officer for the Baton Rouge Fire Department, and asked him if Baton Rouge would be willing to donate a truck if they could get a department organized. Two weeks later, Parker told them if they could get it organized within a certain time limit, he would get them a truck.
The first fact finding meeting was held at the Jaycee Hut on Devall Road on February 8, 1972. The Central Jaycees, headed by President L.J. Bergeron, agreed to sponsor the meeting. All present voted unanimously to approve the motion. Central now had its own Volunteer Fire Department, though with no building and no trained volunteers.
The very first board of directors was composed of Jim Fergerson, John Parker, Tommy Lee, Charles O'Neal, Grover Stephens, L.J. Bergeron and C.J. Watson. L.J. Robinson was the first fire chief. The first training session was held on February 21. Until a firehouse was built, the 750 gallon pumper truck donated by Baton Rouge was kept at Grover Stephens' home on Lovett Road.
On May 22, 1972, a groundbreaking ceremony was held on property donated by L.W. Eaton (the Fire Station's present location), and work began on the main station building. After months of hard work on the part of volunteers, Central Volunteer Fire Department Station held its ribbon cutting on November 4. It boasted 150 volunteer firefighters. That same month the Ladies' Auxiliary was formed. Their purpose was to supply the fire station with whatever equipment was needed. They funded it through bake sales, garage sales, and flower sales. They also walked door to door each year asking for donations. Nowadays the thought of funding a fire station armed with cupcakes would seem ludicrous, but the Ladies' Auxiliary was determined and undaunted in the face of hard work.
Because of the dedication and determination of just a few, we now have the benefit of our wonderful Central Fire Department. Isn't it amazing what Central has accomplished over the years? Whenever we have set our eyes on a goal, no matter how unattainable it appears, we have achieved it. The handful of folks who began our Fire Department had no idea what it would become, they just saw a need, and worked to meet it.
Next week: Central Fire Department continues growth and improvement.