Police/Fire
Central Creates a Fire Department
By
|
By Mia Freneaux; Photos courtesy of Central Volunteer Fire Department

Above: CFD's first Board of Directors, left to right: Jim Fergerson (Secretary); John Parker (Member at Large); Tommy Lee (Chairman); Charles O'Neal (Treasurer); Grover Stephens (Member at Large); L.J. Bergeron (Vice Chairman); C.J. Watson (Member at Large); and E.j. Rogillio (not shown)
What can we do? These were the words that Jim Fergerson and Grover Stephens asked themselves as they viewed the remains of a house in Bellingrath 40 years ago. The family had called the Baton Rouge Fire Department, but they had a policy that a truck could not leave Baton Rouge unless there was a back up truck available. By the time the BRFD had arrived at the scene, the family had lost everything.
40 years ago, Central was a very different place than it is today. The sole defense against fires was the hope that homeowners and neighbors could keep the fire at bay long enough with garden hoses for the firefighters to arrive from Baton Rouge. There was no fire station within miles. There weren't even any fire hydrants. Central, familiarly, was on its own.
Jim, Grover, CJ Watson, Charles O'Neal, LJ Bergeron, Tommy Lee, EG Rogillio, and John Parker decided to call an organizational meeting. "We took a 4×8 sheet of plywood and painted on it that there would be an organizational meeting at the Jaycee's hut – we put it at the corner of Hooper and Sullivan. Everyone who showed up that night voted in favor of a fire department for Central, " remembered Jim. Minutes from that first meeting reveal 35 names on the list of Charter Members.
It is one thing to agree there was a need for a fire department. It is another to make one materialize out of nothing. Their first triumph was John Parker presenting them with the keys to a 1947 American LaFrance Primer Truck on February 28, 1972. The truck had been taken out of commission and put in storage by the BRFD. It held only 250 gallons of water. Chris Ferrara and Donnie Nettles welded an additional 600 gallon tank onto the frame. "They filled it from swimming pools, creeks, whatever they could pull water from," Charlotte Fergerson shared. The BRFD also donated old coats, helmets, even used boots. Jim and Grover both have their old helmets, antiques that no firefighter today would consider using. "Everything we had was cast-off," Grover said
After LW Eaton donated his property at the corner of Sullivan and Hooper, Charles Cloy oversaw the construction of the new station. He got Sanchez Plumbing, Rogillio Real Estate, and many other businesses to donate the materials and labor costs. On November 4, 1972, they held the grand opening. The station, with 2 bays, a kitchen, and bunk room, was ready, but with the exception of the donated truck, completely empty.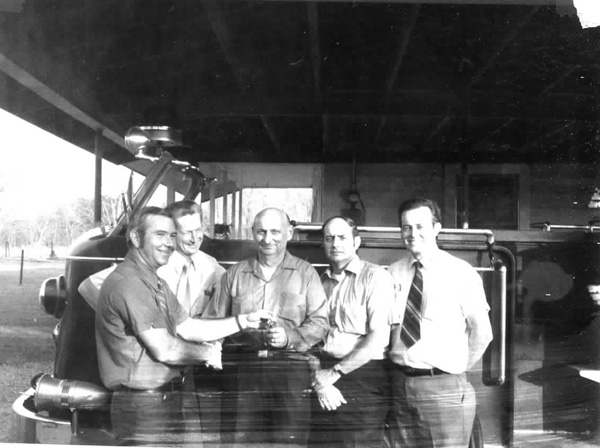 Above: Tommy Lee, Board Chair, hands keys to the first fire truck to L.J. Robinson, first Fire Chief, while Jim Tennison, Grover Stephens, and Jim Fergerson look on.
Enter the Ladies' Auxiliary. Charlotte and Marilyn Stephens remembered the chicken spaghetti dinners (some with a special "firehouse" smoky flavor!), walking the neighborhoods asking for donations, yard sales, bake sales, a gun raffle, a special "Central Volunteer Fire Department Day" at Danny's Fried Chicken, whatever it took to raise money. For years the Ladies' Auxiliary worked to equip the men with the tools they needed. Mr. Carpenter, who lived on Hooper Road, would donate plants he'd pot to sell. "It was all he could do, but he did it," Charlotte shared. Some equipment was donated by local plants when they would upgrade their emergency supplies. The Baton Rouge ambulances would donate first aide supplies. "You can't say 1 or 2 persons did this. We had so many people willing to volunteer anything. They just saw a need and would meet it. That's the thing about Central," Grover stated with pride, "We had a few who refused to support it, said it wouldn't last, we proved them wrong."
Their next big battle was getting the 2% funding built into every insurance policy that was to go to the rural departments that provided fire protection. The City of Baton Rouge was keeping it all. Representative VJ Bella who was also a rural fire chief, Bill Elam from St. George Fire Department, and Grover went before the legislative committee and pled their cause. As a result, a resolution was passed that the money would be given to the fire district it was meant for, not Baton Rouge. Bella ended up the state Fire Marshall. "The Mayor was not very happy with us," Grover said.
The volunteers, all with full time jobs, were called to fight a fire through a phone chain. When someone got a call about a fire, they would dash out the door while their wife would start the phone chain rolling. There was no other means of communication. "Many times a fireman would arrive at a fire and have the situation assessed, gas turned off and meter pulled before the truck even arrived," said Grover. Woody Dumas took up the call and told Central he'd get them what they needed. As a result, they received a repeater station on Hooper Road and pagers for all the volunteer departments in the parish.
The need for a second truck became imperative. So Grover was able to obtain an old Wildlife and Fisheries truck bed from state surplus. They found a green tank from Mrs. Jackson at Father Colbert's Camp on Planchet and welded it on the chassis to be their tanker truck. The first NEW truck that Central owned was purchased with funds borrowed from Baker Bank. Jim, Grover, Charles O'Neal, Tommy Lee and Huey Kinchen signed personal notes to secure this loan. Central, which started with a fire rating of 10, was brought down to a 6 in just a few years. The situation improved even more when Central received a tax district and fire hydrants. "That was my fondest memory," shared Jim.
Grover and Marilyn, Jim and Charlotte shared many memories, which can be found at www.centralspeaks.com. Take some time to go there and maybe share a few of your own!
This walk down memory lane proves that once again, there's just something special about Central. We can accomplish ANYTHING if our attitude is the same as Jim's and Grover's and so many all those years ago – "What can we do?" They just saw a need and would meet it. That's the thing about Central.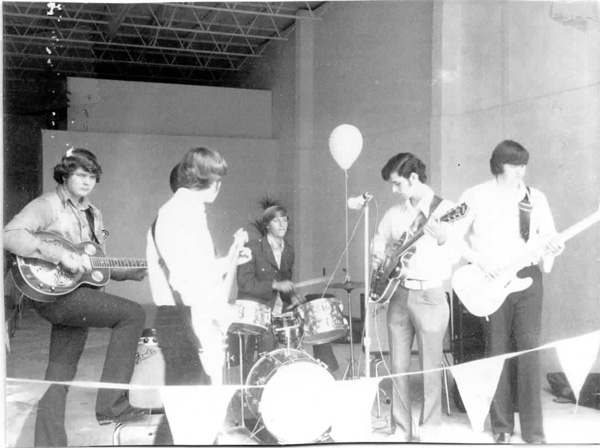 Above: The Adventures played at the grand opening of the Central Fire Station. Left to right: Keith Stevens, David Powell, Barry Pourciau, Doug Barnett, and Ricky Hollingsworth
Next week: Central Volunteer Fire Department plants a seed