Community
Letter to the Editor: A Happy Ending
By
|
Thanks to the story in the paper, Molly was returned to her parents. After a long 6 days of worry for both Levy and Patricia Harrison, Molly was returned to them. On Sunday, July 31, 2011 Levy had taken Molly outside to take care of the usual business of a puppy. Shortly after they went outside a storm came up and a bolt of lightning struck a tree near the house and Molly took off running from fright from her home on Oak Cluster Dr. For days many searched for Molly. A story was run in the paper about her disappearance, pictures and flyers were taken door-to-door in all of the neighboring subdivisions. No one had seen her. On Friday, August 5 at approximately 10:15 their daughter received a phone call from Troy Kirklan, a heavy equipment operator working on the Central Thruway, stating that he had found Molly. He had seen her on Wednesday in the woods along the edge of the thruway construction. He stated that she seem lost and frightened. He placed some food out for her. She was still there on Thursday so he left food for her again. On Friday when he returned to work, she came out to him and he fed her and took her on his dozer for the day. That night his wife saw an article about Molly and told him that her name was Molly. He called her from the back of the house and she came running. On Saturday, August 6, 2011 Molly was reunited with her parents.

A very special thank you goes out to Mr. Kirklan. It's good to know that there are still good caring people in this world and Mr. Troy Kirklan of Baton Rouge is definitely one of them.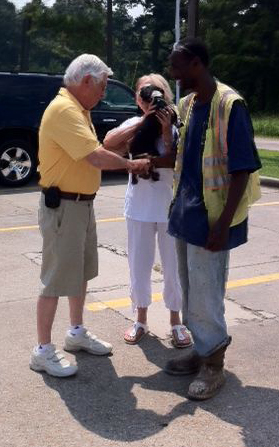 In the picture are Levy and Patricia Harrison, Troy Kirklan and a very happy Molly attacking her mom with lots of kisses.