Gov't
Richardson Announces Re-Election Bid
By
|
Submitted by Rep Richardson's Office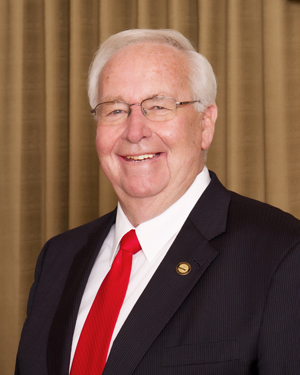 "I have the experience to be effective and the burning desire to continue the reforms necessary to help Louisiana move forward. I'd be honored for the voters of District 65 to offer me a second term in office so that together we can continue our good work," says State Representative Clif Richardson as he announces his intentions to run for re-election.
Richardson is a former Justice of the Peace and businessman in the Central area and is completing his first term in office as state representative for District 65, which runs north/south from Central to Southeast Baton Rouge.
Richardson says as a freshman legislator he built coalitions and relationships that will make his experience an invaluable asset in the next four years. "Term limits is the cause of high turnover in the Legislature this cycle and it is offering opportunities for advancement and leadership positions for the freshman class. I have the knowledge and background to use my experience and take a leadership role for District 65, for East Baton Rouge Parish and all of Louisiana," he adds.
Richardson says he's proud of the accomplishments of his first term but says there is much that remains to be done. He says balancing the budget without new taxes while maintaining critical state services has been a particularly difficult challenge during tough economic times. However, he says he'll continue to fight to ensure that those in need of health care and other essential services have ready access to these programs.
In addition, Richardson cites ethics reforms and education reforms as areas the Legislature has addressed in his first term to help overcome the nation's poor perception of our state. He says he is particularly proud of his efforts to ensure a balanced budget each year and maintain and improve the TOPS scholarship program for graduating seniors—a program that continues to receive national acclaim.
"I'll continue to be a conservative voice for our district but I'll make the tough choices when they have to be made. Investing in the education of our children is a challenging choice but needs to be done. And regarding taxes, I think we should look at the areas of taxation that are causing us to be uncompetitive in economic development and are hurting our middle class families and reduce or eliminate those barriers to growth. And while there may have to be some tradeoffs, I am definitely not in favor of increasing overall taxes. Government should run like a business and like our families in that regard—it should live within its means," Richardson says.
In addition, Richardson says he was honored to work with the state's law enforcement officials to strengthen the rules of evidence when prosecuting criminals and has been praised for his efforts to pass a stricter confidentiality law that protects the innocent victims of crime.
Regarding reforms and programs he would like to address in the coming term, Richardson says education will continue to be a priority along with economic development. He says infrastructure, roads and bridges have been and will continue to be extremely important for his district and admits that the Baton Rouge area delegation has worked hard as a team to secure over $400 million in local funding over the past 3½ years for a number of critical road and infrastructure projects.
Specific to District 65, Richardson cites some $230 million in road improvements including the I-12 expansion, widening of O'Neal Lane, 4-laning of Sullivan Rd, the Magnolia Bridge project, Greenwell Springs overlay, improvements to the Florida and Flannery intersection, and the widening of Millerville from I-12 to South Harrell's Ferry Road.
"These projects are right here in our district and affect not just our residents but everyone in the entire region. We've been able to get projects moved up on the priority list and we've got more waiting to begin. As one of the fastest growing areas in the state, we need these projects to maintain our steady growth and quality of life," he adds.
Richardson says he has lived in the district for more than 46 years and has seen the region grow and prosper during that time. He says he wants to help continue that growth and that using his experience in the Legislature is a valuable asset in serving our district. He and his wife Dianne have two children and seven grandchildren. He is a longtime, active member of Fellowship Baptist Church and has served on the board or as a member of numerous business and civic organizations including the Chamber of Commerce, Homebuilder's Association, Optimist Club, Volunteer Fire Department and many others.
"Serving the wonderful people of District 65 has been an honor and a privilege. I want to continue taking this experience and using it to better serve the people of our district and our state," he concludes.