Church
"Catholics and the Bible" Presentation September 15th
By
|
Submitted by Deacon Ronnie Hebert
Renewed Hope Ministries presents:
"Catholics and the Bible"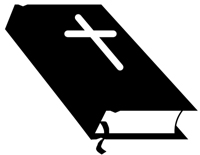 Join Deacon Ronnie Hebert of (St. Alphonsus Church) and Deacon Ricky Patterson (St. Louis King of France Church) as they give a presentation on the Holy Bible.
They will explore topics such as : (What came first, the Church or the Bible? / What the Church teaches on how to study and interpret the Bible / Sola Scriptura: Does the bible support the belief of the Bible alone? / Are we saved by Faith Alone? / What about the believe of "Once saved always saved?").
Come and hear Deacon Ronnie's conversion story and how his study of the Bible brought him back to the Catholic Church. Also, there will be an opportunity to have your questions answered during the presentation.
Date, time and location: Thursday, September 15th, from (7 – 8:30pm) @ St. Alphonsus Catholic Church, 14040 Greenwell Springs Rd. / For more information: call Olga Johnson @ 261-4644.