Community
Central App Is Growing
By
|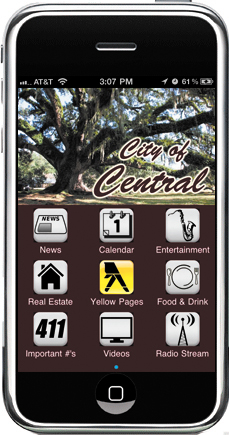 Central Now, THE App for Central, is still free and is growing. Download Central Now from the App Store or the Droid Market and look for these growing features:
Team Schedules
Check out page 2 of the App for "Schedules". Scroll down, select a team, and see their complete schedule of game dates, times and locations. In fact, send us YOUR team's schedule, club ball, church ball, biddy ball, whatever, and we'll add it to the list.
Entertainment
Go here to see what is going on in Central purely for fun. Games, Bands, Concerts & more.
CHS Football Live
Tune in to the APP Fridays at 6 PM for pregame and 7 PM for the game. Catch the Sid Edwards show Thursdays at 5 PM. If you tune in and hear 107.3 instead of the game, restart the App or turn your iPhone off and that should solve it. Bear with us while we solve this inconvenience.