Gov't
Rep Mack "Bodi" White Set to Qualify for State Senate District 6 on Tuesday
By
|
Submitted by Mack "Bodi" White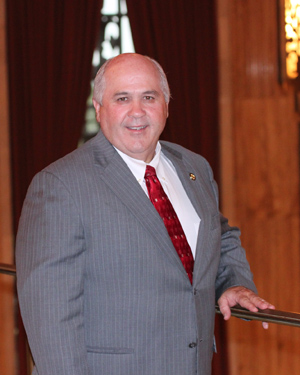 Louisiana State Rep. Mack "Bodi" White, R-Central, La., says he will qualify to run for State Senate District 6 in the Oct. 22 primary election next week during the state's qualifying period, Sept. 6-8.
White plans to officially register as a senate candidate at 9:30 a.m. Tuesday (Sept. 6) in the East Baton Rouge Parish Clerk of Court's Office. He will be available to the media for interviews after completing the qualification process.
State Senate District 6 represents parts of East Baton Rouge, Livingston, St. Helena, and Tangipahoa parishes.
White cites his experience as an effective legislator who has led efforts to lower taxes, create jobs, invest in infrastructure, strengthen laws against criminals and improve education during his tenure in the Louisiana House of Representatives as his qualifications for the new post.
"I will continue to work hard to get the job done for the people I represent," White said. "I look forward to putting my experience in state government to work in the State Senate, and continuing to accomplish positive, forward-moving changes for my district and for the state as a whole."
White has been a champion of fiscal conservative policies by consistently voting to lower taxes and reduce the size of government. In fact, over the last six years, the State Legislature has reduced more than $1 billion in state and personal taxes, including a reduction in the Stelly Tax.
At the same time, he secured $400 million worth of funding for infrastructure projects in the Baton Rouge Metro Area, including the widening of I-12 and I-10 and repairing local bridges. Those projects are considered crucial factors in improving economic development opportunities in the area that will in turn create local jobs in the future.
White also was instrumental in passing legislation that allowed the Livingston Parish governing districts to enter into a tax-incentive-financing agreement with Bass Pro Shops, creating hundreds of jobs and bringing thousands of tourist dollars into the local community.
"Investing in our infrastructure, creating an environment for more jobs, and improving education for our children are important ways the state can support our local economy. I will continue to seek ways to improve conditions for people, so they can have the resources to have good, high-paying jobs in their home areas," White said.
White holds important committee assignments in the State House, including Appropriations, Judiciary, Criminal Justice, and Homeland Security, which he presides over as chairman. White also serves on the state's Juvenile Justice Commission and the Louisiana Emergency Response Network.
White was among those legislators who pushed for ethics reform in this current administration by authoring the first ethics bill to be approved. His bill provided protection to government whistleblowers who reported illegal or unfair activities in their office. He also supported and lobbied for legislators to disclose information on their financial dealings, for the Ethics Administration's Executive Director to be a full-time appointee, and for mandatory governmental ethics training for legislative officials.
White is an active member of his hometown community. He's involved in local civic, community and youth recreation organizations, and he is a member of the chambers of commerce throughout the district. He is also an active, long-time member of Blackwater Methodist Church.
White and his wife, Robin Wunstel White, will celebrate their 29th anniversary this fall. They are the parents of three children and a son-in-law: Kimberly, Kristen, Mackie and Ivan McKnight; grandparents to Sydney Elizabeth; and best friends of a six-year-old Boxer named Izzi.
White holds a Bachelor of Arts degree in criminal justice from Southeastern Louisiana University, and did his post-graduate studies at Loyola University. He served as an East Baton Rouge Parish Sheriff's detective for six years, and worked as a supervisor at ExxonMobil for 17 years. He currently works as a commercial and property real estate agent with Rogillio Real Estate Company in Baton Rouge and owns a small private security company.
White has been named the City of Central's "Man of the Year," as well as numerous awards for his public service. He also has been recognized for has assistance in providing student scholarships for Southeastern Louisiana University.