Sports
Wildcats Travel to Lafayette to Take on St Thomas More Friday
By
|
By Josh Walker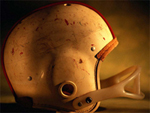 The Central Wildcats (1-0) will travel to St. Thomas More (1-0) Friday night in an early season test for the young Wildcats. The Cougars will probably be #1 this week in 4A because the two teams in front of them both lost this past week. St. Thomas More drops to 4A this year after a 13-1 season in 5A with their only loss being to state champion Acadiana in the semifinals of the playoffs. The Cougars return 10 starters (7 on offense, 3 on defense) and will be led by junior quarterback Brandon Bergeron and senior running backs John Juneau and Matt Flores. STM is projected to finish second in District 5-4A behind Breaux Bridge.
This is Central's annual travel game, and a large crowd will definitely give the Wildcats a boost. The location of the game has not yet been determined. St. Thomas More's field was vandalized this past week, and there has been no word as to whether or not the stadium will be ready for Friday. If the game is not played at STM, it will be played at ULL's stadium.
Coach Dotson said, "We're on the road next week in hostile territory. We can't make the mistakes we made tonight and expect to win next week" after the Istrouma game. The Wildcats always put together a good effort against good teams, and they'll need one Friday night.